Chair: Eric Wylde, Santa Clara County Agriculture
General contact: Eric Wylde, 408-918-4626, eric.wylde@aem.sccgov.org
Mapping contact: Gary Meyer, 408-918-4618, gary.meyer@aem.sccgov.org
Meetings: Second Tuesday of every other month, location is variable.
Formed: 1999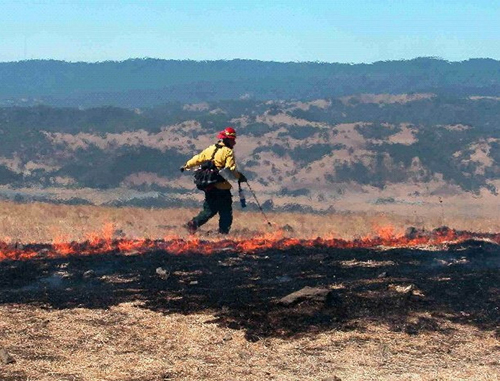 The Santa Clara WMA works with local agencies and CalFire on prescribed burn trainings.
Photo courtesy Eric Wylde.
Outreach Summary:
Publications
Events
The WMA has held seminars and workshops for ranchers and land managers on Yellow Starthistle Management, Weed Mapping, Using Fire as a Weed Management Tool, and Rangeland Weed Management.
Project Highlights:
Hand pulling Illyrian Thistle at Almaden Quicksilver County Park
Hand pulling has been the method control of historic population of Illyrian thistle, in the English Town area of Almaden Quicksilver County Park. Abating the thistle infestation within the park not only reduces its spread into adjacent private and county but also to open space and rangeland.

This is the only Illyrian thistle infestation in the state of California and is limited to a few plants scattered over approximately 8 acres of county park property. By eradicating, the infestation, the Santa Clara County WMA will prevent its spread into surrounding open space and rangeland. This will protect the forage quality of nearby rangeland, and will also protect the native plant communities and associated pollinator species found within serpentine outcroppings that surround the site.
Project partners: Santa Clara County Agriculture, Santa Clara County Parks, California Department of Food and Agriculture.
Calaveras Reservoir Watershed Starthistle removal
This project area is 12.7 acres and within actively-grazed rangeland in north-eastern Santa Clara County. Centaurea species produce allelopathic effects and are highly competitive with other plants, often displacing desired vegetation. These plants replace palatable species in some grazed areas, and dense stands of mature plants can make areas inaccessible to livestock and humans. Eradication of these Centaurea species from the Calaveras watershed will enhance the carrying capacity for livestock grazing and will eliminate the seed source for potential spread of these species into adjacent park and open space properties.
Project partners: Santa Clara County Agriculture, California Department of Food and Agriculture, San Francisco Water Department.
Arastradero Preserve Jointed goatgrass control
The Arastradero Preserve has over 16,000 acres of open space. It is also surrounded by large parcels of land and houses, which also benefit both ecologically and financially from the reduction and control of invasive weeds. This project address joint goatgrass, yellow starthistle, poison hemlock and Italian thistle. Methods of controlling weeds for this project are: mowing, weed whipping, hand pulling, solarization, flaming, sheet-mulching, native grass straw cover, and biological controls. The long-term benefits include the protection and expansion of restoration sites, the increase of biodiversity, and increased public education about the threat of non-native invasive species and keeping weed species such as jointed Goatgrass from spreading into other parks or land. All species addressed have serious negative effects on nearby livestock. The Arastradero Creek restoration site contains native Malacothamnus fasciculatus, bush mallow, listed as a rare plant by the California Native Plant Society. Italian thistle populations are quickly expanding into this restoration site, impeding the growth and survival of native plants, including bush mallow. Arastradero Preserve also contains serpentine habitat. Yellow starthistle and Italian thistle populations have been increasing in the serpentine habitat within the Preserve over the last few years.P roject partners: Acterra, City of Palo Alto.
Barbed Goatgrass removal on Coyote Ridge
Coyote Ridge is 7,000 acres and located near Morgan Hill. Project goals are to contain, control, and eradicate infestations of barb goatgrass and to prevent its further spread into grazing land and into sensitive serpentine grasslands. Methods implemented in this project are mechanical, chemical, burning, flaming and hand-pulling. This habitat is home to the last viable population of the Bay checkerspot butterfly, listed as threatened by the US Fish & Wildlife service, and fourteen plants on the California Native Plant Society Inventory of Rare and Endangered Plants. Barb goatgrass thrives on serpentine. If unchecked, goatgrass can nearly eliminate host plants and nectar sources for the threatened butterfly, leading to local population extinctions. Rare plant populations and spectacular wildflower displays are also at risk. Goatgrass limits grazing value, and grazing is the key management prescription to control other invasive annual grasses. Project partners: Santa Clara County Open Space Authority, California Native Plant Society, Silicon Valley Land Conservancy, United Technologies Corporation, Waste Management, Inc., and Valley Transportation Authority.
Organizations on WMA's MOU
County of Santa Clara Parks & Recreation
United States Department of Agriculture
Natural Resources Conservation Service
University of California Cooperative Extension
Santa Clara County Roads and Airports
Santa Clara County Open Space Authority
Santa Clara County Cattlemen's Association
Santa Clara County Agriculture
San Francisco Estuary Invasive Spartina Project
Midpeninsula Regional Open Space District
Mantelli Ranch, Friends of Foothills Park
City of Palo Alto
City of Gilroy, California Department of Transportation
California State Parks & Recreation
California Native Plant Society
Acterra
Other regular participants
Save the Bay
United States Fish and Wildlife Service
Santa Clara Valley Water District