Welcome to the Cal-IPC Library. The Cal-IPC Shop is closed while we shelter-in-place. However, many publications are available online as PDF documents.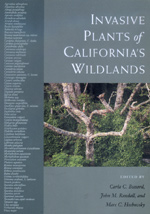 Publications include: Best Management Practices manuals, reports, books, CD-Roms, and brochures. Publications can be ordered online, or use our printable order form.
To support field identification of early detection species, Cal-IPC has designed ID cards for EDRR that can be downloaded, printed double-sided, and trimmed to size. You can also access cards from each species' listing in our online Inventory.
In response to training needs of the natural resource management community, Cal-IPC produces videos on a number of topics, including prevention, mechanical control tools, herbicide control methods, flaming, and more.
Cal-IPC provides free training sessions each year. A selection of training materials and presentations are posted online.
Here's a list of related plant sites, government organizations, and invasive species non-profits.
Links to articles from media sources that quote Cal-IPC staff on issues of invasive plant management.
Read the latest Dispatch Newsletter for updates on invasives, or peruse the archive for more than 20 years of information. The newsletter is mailed to Cal-IPC members – join today to make sure you get the next copy!