Region covered : The Lake Tahoe Basin (using the same boundary as the USFS Lake Tahoe Basin Management Unit) is a bi-state group that includes five counties.
Chair: LeeAnne Mila, El Dorado County Agriculture Department
General contact: LeeAnne Mila at (530) 621-5520
Call: (530) 621-5533 or leeanne.mila@edcgov.us
Meetings: Held quarterly at USFS Tahoe Basin Management Unit Office, South Lake Tahoe
Webpage:  tahoeinvasiveweeds.org
Formed: 2002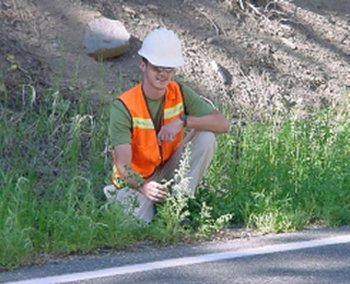 Lake Tahoe Basin WMA conducts road surveys for early
dectection and rapid response on plants like diffuse knapweed.
Photo courtesy Wendy West
Outreach Summary:
   Publications
Sweep Broom Out of Your Yard! brochure
Know Your Thistles brochure
Don't Plant at Pest – Lake Tahoe Basin version brochure
Why Should I Care About Invasive Weeds? brochure
Know Your Noxious Neighbors! – A Homeowners Guide to Identifying and Controlling Invasive Weeds brochure
   Events
Annual Invasive Weeds Tour – during California Invasive Weeds Awareness Week
Training for contractors at the annual BMP Training
Weed identification trainings for field crews and the general pubic
Informational booths at neighborhood block parties – Earth Day
Coordinate outreach efforts with the Aquatic Invasive Species group
   Media
Project Highlights:
   Lake Tahoe Basin wide multi-weed removal project
This weed removal project focuses on a Basin wide eradication of spotted knapweed, tall whitetop, diffuse knapweed, Dalmatian and yellow toadflax, Canada thistle, oxeye daisy, sulfur cinquefoil and Klamathweed. Early detection and rapid response are the primary goals for this area because populations are still small. Methods of control and treatment of invasives by hand crews are hand pulling, digging, mulching and herbicide application. All populations are mapped and resurveyed annually. Strategic goals (what's being protected): water quality and clarity, wildlife habitat, threatened plant species – Tahoe yellow cress, protection from increased fire risk from invasives (e.g. Scotch broom). In this project all partners are involved.
Organizations on WMA's MOU
Nevada Department of Transportation
University of California Cooperative Extension
Tahoe Resource Conservation District
California Tahoe Conservancy
University of Nevada Cooperative Extension
El Dorado County Department of Agriculture
Nevada Department of Agriculture
California States Parks and Recreation
Placer County Department of Agriculture
California Department of Transportation
Douglas County Weed Control
United States Department of Agriculture Forest Service
Washoe Tribe of Nevada
Nevada Tahoe Conservation District
Tahoe Regional Planning Agency
Nevada State Parks
Other regular participants
Lahontan Regional Water Quality Board
California Department of Food and Agriculture
Tahoe Keys Homeowners Association
University of Nevada – Master Gardeners