Source: California Invasive Plant Council

URL of this page: http://www.cal-ipc.org/index.php
Quick Links
Plant Profiles - Information clearinghouse by species...
Membership - Individual or organizational...
Store - Books, brochures, reports, gear, and more...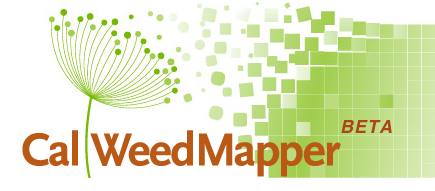 Across California, invasive plants damage wildlands. Invasive plants displace native plants and wildlife, increase wildfire and flood danger, consume valuable water, degrade recreational opportunities, and destroy productive range and timber lands. Cal-IPC works with land managers, researchers, policy makers, and concerned citizens to protect the state's environment and economy from invasive plants. More...
Taylor, Jason and Kevin ran in the SF Marathon July 31,
raising $4,000 for Cal-IPC!
New at Cal-IPC.org...
2016 Symposium: Join us at the Tenaya Lodge near Yosemite for our 25th Anniversary! Registration and sponsorship open. More...
Cal-IPC hiring: We're looking for a Conservation Program Manager. More...
Rangeland weed workshops: From UC Davis, coming this fall to five locations. More info soon.
Climate resiliency reports: Integrating invasive plant management into climate adaptation. More...
Avoiding invasives in landscaping: Our new checklist compiles information from the Cal-IPC Inventory, PlantRight, and the CDFA Noxious Weed List so landscape designers can avoid using invasive plants. More...
BMP manual: "Protecting Wildlife When Using Herbicides for Invasive Plant Management." More...
ID cards: Download pdfs from links on the Inventory and Watchlist. More...
Newsletter: Summer issue features: park stewardship, oxalis control, WMAs, soil biota, new forest pathogen, and more. Posted for non-members upon publication of following issue; see Spring issue at right. More...
Watchlist: Updated January 2016. Cal-IPC is beginning a project to prioritize emerging weeds. More...
Blue gum re-evaluated: Read our revised assessment of Eucalyptus globulus. More...
Weed-free forage: Maps of WFF Providers in each county now available! More...
CalWeedTalk: Join our email discussion list for job postings, announcements and more. More...
WHIPPET: Try our online tool for prioritizing weed populations for eradication. More...
Student Chapter: Visit Cal-IPC's student chapter on Facebook.
Facebook: Stay up to date with Cal-IPC's breaking invasive plant news on Facebook.