Source: California Invasive Plant Council

URL of this page: http://www.cal-ipc.org/index.php

Quick Links
Plant Profiles - Information clearinghouse by species...
Membership - Individual or organizational...
Store - Books, brochures, reports, gear, and more...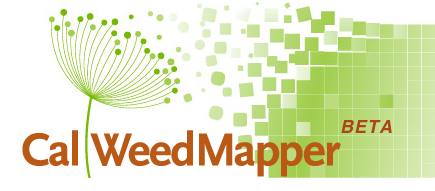 Across California, invasive plants damage wildlands. Invasive plants displace native plants and wildlife, increase wildfire and flood danger, consume valuable water, degrade recreational opportunities, and destroy productive range and timber lands. Cal-IPC works with land managers, researchers, policy makers, and concerned citizens to protect the state from invasive plants. More...
New at Cal-IPC.org...
CalWeedTalk is back! Join our resurrected email discussion list. Sign up now...
Support Cal-IPC: Thank you for your generous year-end donations! If you're moved to make a year-beginning gift, use the "Donate Now" button at right...
Report: Bioinvasions in a Changing World: A Resource on Invasive Species-Climate Change Interactions for Conservation and Natural Resource Management. Read it...
Symposium: Presentations from Chico are now posted online. More...
WHIPPET: Test drive our new online tool for prioritizing weed populations for eradication. More...
Prevention BMPs: A training video is available, based on our print manuals being used in 30 states and 16 countries! More...
Watchlist: Thirteen plants added November 2014. More...
Weed-free forage: Updated supplier list posted. More...
Video: Ken Moore demonstrates woody weed management techniques. More...
Fall Newsletter: Articles on volunteers, Chinese pistache, PlantRight progress and more (will be posted for non-members upon publication of our next issue). More...
Climate adaptation: Resources for setting climate-smart management strategy. More...
Facebook: Stay up to date with Cal-IPC's breaking invasive plant news on our Facebook page.
California Invasive Plant Council
1442-A Walnut St., #462 ~ Berkeley, CA 94709
p: (510) 843-3902 ~ f: (510) 217-3500 ~ info@cal-ipc.org

Printer-friendly version