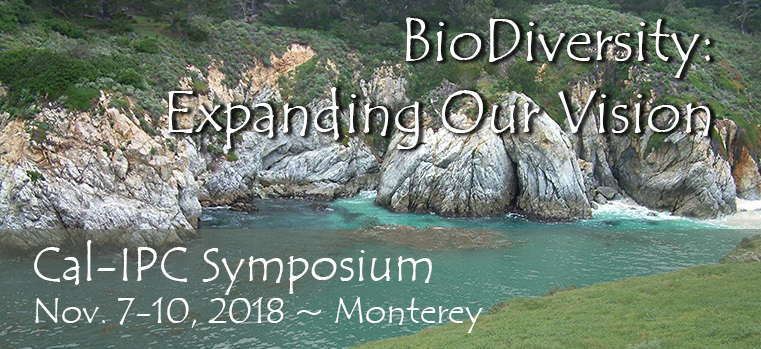 Thank you for joining us at the 2018 Cal-IPC Symposium in Monterey!
View the program – presentations will be posted soon.
Nearly 450 land managers, researchers, and conservationists gathered for the 27th annual Cal-IPC Symposium in Monterey! Stewarding biological diversity is inherent in Cal-IPC's mission. Protecting cultural and intellectual diversity is important to our success as well. The 2018 Cal-IPC Symposium explored the ways our work spans these areas, with the theme "BioDiversity: Expanding Our Vision."
We shared the latest in invasive plant biology and management, with talks, posters, trainings, discussion groups, and field trips on projects addressing invasive plants from riparian, grassland, mountain, coastal, and aquatic/wetland habitats. Attendees shared information about effective tools, relevant research, non-chemical management approaches as well as the latest on herbicides. Special sessions covered: revival of Weed Management Areas; coastal management efforts; fire ecology and post-fire recovery: restoration approaches; prioritization, mapping, and management; outreach & communications; aquatic weed management; biocontrols; equity, diversity, and inclusion in land management; non-plant invasive species; addressing Phytophthora in restoration; research on invasive plant biology and management; and regional planning and funding.
Wednesday featured training sessions, including Invasive Plant Management 101, Calflora's Weed Manager, and Best Management Practices for Controlling Phytophthora in Restoration. The main conference sessions took place all day Thursday and Friday. Field trips on Saturday explored invasive plant management efforts in the region. See the schedule on the Registration page.
Thank you to everyone who came to exchange knowledge with the amazing network of land stewards in California!
Registration is closed. Mark your calendars for the Cal-IPC 2019 Symposium in Riverside, Oct 15-18.
Symposium sponsors connected to California's natural resource management community. Sponsors received recognition throughout the event, including a dedicated exhibit and poster session to engage with attendees.
The Call for Abstracts is now closed. We look forward to sharing your work with California stewardship colleagues.
Thank you for joining us on the coast at the Monterey Hyatt Regency. Nestled within 22 acres of soaring Monterey Pines along the Central California Coast, the hotel has close proximity to downtown Monterey, the Monterey Airport, and the Peninsula's most well-known attractions. Check out our lodging & travel page for information on the hotel, travel to/from, and connection to the Ride & Room share bulletin.
View award winners from previous Symposia and celebrate their success.
There were great items up for grabs at the silent auction & raffle! Thanks to the generosity of our attendees, we raised $13,000 for the Cal-IPC general fund.
The Annual Photo Contest is a great way to share your field work, and helps Cal-IPC tell the story of invasive plants and weed management. Keep taking pictures – maybe you'll win next year!
Looking for more content? See our Symposia Archive for presentations and proceedings for previous Symposia back to 1995.
---