BOOKS, REPORTS, VIDEOS & DIGITAL | BROCHURES | CAL-IPC GEAR | CART
Thank you for your support of Cal-IPC. Click on one of the categories to start shopping. You can also support our work with a membership gift.
Celebrate our 30-Year Anniversary and show off your love for California biodiversity with this special limited-release design! Your purchase helps Cal-IPC continue to protect native (and often threatened or endangered) species by helping our community manage invasive plants in our state.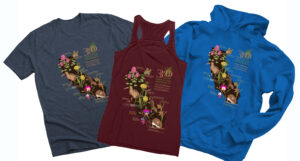 Federal agencies should use the printable PDF order form and mail, fax, or email it to us (the online form will automatically charge sales tax for California addresses).
Cal-IPC's federal tax ID number is 68-0289333. Our W9 form is available online.
Shipping is a flat-rate (includes handling) $6.00 for the first item and $4.00 for each additional item, sent via USPS. Heavier items may include additional shipping/handling fees. Sales tax of 9.5% (Alameda County) will be added to items shipped within California. We ship only within the United States.
Brochures are provided free of charge, up to 10. Email info@cal-ipc.org.
Our Publications page has free reports and BPMs to download for free.
Need to pay by check? Use the printable PDF order form.
Other questions? Please contact info@cal-ipc.org.