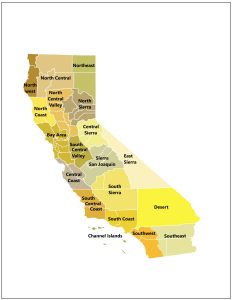 Regions map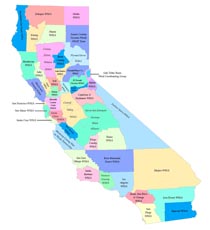 Weed Management Areas
County-based Weed Management Areas (WMAs) have formed in every part of the state. Follow the links below to learn more about each WMA, or see background on the WMA program. Links go to the WMA's own website if it has one or to a simple profile on our website. Help us keep these profiles up to date! Notify us of any changes by emailing info@cal-ipc.org.
Statewide WMA Meetings
Register below for the 2022 Statewide WMA Meeting, Nov. 1, 8:00-10:00 am!
The annual meeting of the state's Weed Management Areas, with updates from CDFA, presentations on WMA projects, and discussion of regional prioritization. Zoom links will be emailed the day prior to the meeting. For applicators wanting DPR CEUs, have your license number on hand. Contact symposium@cal-ipc.org with any questions.
View video recording and presentations for the 2021 Statewide WMA Meeting
View presentations for the 2020 Statewide WMA Meeting
View presentations for the 2019 Statewide WMA Meeting.
Regional EDRR Priority Targets
This map and document with regional invasive plant EDRR targets was updated in October 2021, in collaboration with the California Department of Food and Agriculture, County Agricultural Commissioners, and Weed Management Areas.
Regional partnerships
WMAs