November 2-5, Tenaya Lodge in Yosemite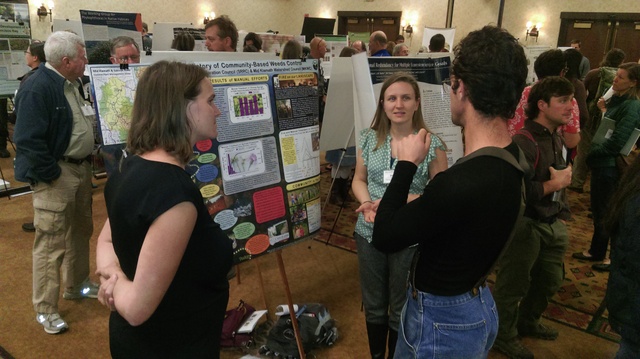 Tanya Chapple, Mid Klamath Watershed Council and Emily Ferrel, Salmon River Watershed Council discuss their poster at the poster session.
Photo: Doug Johnson
View program and abstracts.
Links below are pdf files converted from Powerpoint presentations.
Training: Invasive Plant Management 101
Training: Certified Weed-Free Forage and Mulch
Training: Calflora's Weed Manager
DPR: Laws and Regulations
Session 1. A Century of Park Stewardship
Session 2. Grazing, Weeds, and Rangeland Management
Diana Benner of The Watershed Nursery gives a talk on the risks
Phytophthora
species pose to restoration goals.
Photo: Bob Case
Session 3. Successful Invasive Plant Management Projects
Lunch
Session 4. Gimme the Dirt: Plant Invasion and the Soil Microbiome
Session 5. Do No Harm: Managing Restoration's Unintended Consequences
Session 6. Early Detection: How NPS Keeps on Top of Invasive Plants in the High Country
Session 7. Aerial Tools for Mapping and Treatment
Session 8. Finding Common Ground in Resource Management
Discussion Groups
Tools & Techniques: Ask the Invasive Plant Management Experts – Learn from your peers and get your specific control questions answered by our expert panel of seasoned land managers.
Grazing, Weeds and Rangeland Management – How can you incorporate grazing into your management regime? Chair: Morgan Duran, UC Cooperative Extension
Using Weed-Free Materials – What land managers need to know about using weed-free mulch and feed. Led by Paul Kjos, Shasta County Agriculture and Joanna Clines, Sierra National Forest.
Integrating Biocontrols into Your Work – We know biocontrol agents can be powerful, but how can land managers deploy existing agents for their lands? Led by Mike Pitcairn, CA Dept. of Food & Agriculture.
Non-Native Plants in Restoration – Recognizing that non-native plants are part of the landscapes we manage, and that climate change is shifting vegetation communities, what role might non-native plants play in meeting stewardship goals? Led by Elise Gornish, UC Davis.
Session 9. Invasive Plant Research I
Session 10. Productive Partnerships for Invasive Plant Management
Session 11. Invasive Plant Research II
Session 12. What Are We Learning?
Session 13. Invasive Plant Management: Past, Present, and Future.
2016 Weed Alerts.
Dean Kelch, California Dept. of Food and Agriculture
25 Years of Cal-IPC and invasive plant management in California.
Jennifer Funk, Chapman University
The future of invasive plant management: Voices from the field.
Juan de Dios Villarino, Natural Resource Management Crew Leader; California State Parks, Santa Cruz District; Justin Valliere, UCLA Post-Doctorate Researcher; Rachel Kesel, Conservation Management Specialist, One Tam
Park stewardship, invasive plant management, and the next 25 years.
Jay Goldsmith, Natural Resources Division Director, Pacific West Region, National Park Service
Posters
The working group for Phytophthoras in native habitats: Working collaboratively to prevent invasive species introductions in California wildlands. Janice Alexander, UC Cooperative Extension
After all this time and money, are the weeds getting better or worse? Joseph Algiers, Jr., Santa Monica Mountains National Recreation Area
Birdseed induced invasion of non-native grasses millet (Panicum miliaceum) and sorghum (Sorghum bicolor) into Joshua Tree National Park, CA. Laura Ashfield, Joshua Tree National Park
Species interactions of a heavily invaded ecosystem: The role of competition among California exotics. Julia Battisti, University of Montana
Spatial patterns of diversity in California grasslands. Evan Batzer, UC Davis (Student Poster Contest)
Assessing emerging invasive plants in California. Elizabeth Brusati, California Dept. of Fish & Wildlife, Dana Morawitz and Doug Johnson, California Invasive Plant Council, and Mona Robison, CalBotany
Fire followers of Yosemite National Park. David Campbell, Yosemite National Park
The continuing history of weeds eradication in the Salmon and mid-Klamath watersheds. Tanya Chapple, Mid Klamath Watershed Council
Assessing aquatic plant invasiveness to facilitate management in the Sacramento-San Joaquin Delta. Valerie Cook Fletcher, CA Dept of Fish and Wildlife
Enhancing the wildlife value of farms in the Central Valley: A team effort. Matthew Danielczyk, Audubon California
Early detection and control of invasive plants following the Rim Fire. Steven Del Favero, Yosemite National Park
Scale of landscape conservation: Finding common ground between management and the weeds. Kathleen Dickey, San Mateo Resource Conservation District
Seeding Functional Redundancy for Multiple Ecosystem Service Goals. D.J. Eastburn, L.M. Roche, M.P. Doran, E.S. Gornish
Prescribed fire in the vernal pool grasslands of Prairie City State Vehicular Recreation Area. Lora Elsom, California State Parks
Uses of Southern California black walnut (Juglans californica) in landscaping and restoration. Eliza Hernández, Cal Poly Pomona
Controlling Linaria dalmatica at Hungry Valley State Vehicular Recreation Area. Chris Hon, California State Parks
Controlling Algerian sea lavender and assessing marsh vulnerability. Drew Kerr, San Francisco Bay Invasive Spartina Project
Caltrans: Protecting travelers and wildlife from invasive weeds. Conrad L. Kiernan, Caltrans
Development of a regional aquatic weeds project (DRAAWP). Guy Kyser, UC Davis
The indirect effects of invasive grasses on native forb persistence. Marina LaForgia, UC Davis (Student Poster Contest)
New challenges in the eradication strategy for Russian wheatgrass (Elymus farctus) populations found in the Guadalupe-Nipomo Dunes, San Luis Obispo County. Nancy La Grille, California State Parks
Effects of juglone on the germination of Southern California native and invasive plant species. Sierra Lauman, Cal Poly Pomona
Response of invasive Tamarisk to chemical controls in a southern California desert. Danny McCamish, California State Parks
Effects of nitrogen and phosphorus on the growth and reproduction of Pennisetum setaceum, African fountain grass. Glen Morrison, Cal Poly Pomona
California Alliance for Tamarisk Biocontrol – Biological Control with the Tamarisk Leaf Beetle (Diorhabda spp.). Nicole Norelli and Tom Dudley, UC Santa Barbara
Do invasive grasses employ different water use and rooting strategies than a native chaparral shrub? Michala Phillips, UC Riverside (Student Poster Contest)
Using native woody shrubs as nurse plants for seedling establishment in Coastal Sage Scrub. Lauren H. Quon, Cal Poly Pomona
Controlling Harding grass (Phalaris aquatica) in a grassland setting – the final report. Stassia Samuels and Laura S. Julian, Redwood National and State Parks
Light tools for removing jubata grass. Mark Skinner, Coastal San Luis Resource Conservation District
Investigating anthropogenic stressors and the relationship with Schismus barbatus for the threatened Little San Bernardino Mountains Linanthus. Lynn C. Sweet, UC Riverside
A test of reduced rates of glyphosate for the control of invasive plants. Don Thomas. San Francisco Public Utilities Commission
Square pupils: Goats as alternative fuel and weed reduction workers. Andrea Williams, Marin Municipal Water District
Cal-IPC's "Celebration of 25 years" Video Submission
---
See our Symposia Archive for presentations, proceedings and discussion group notes for previous symposia.