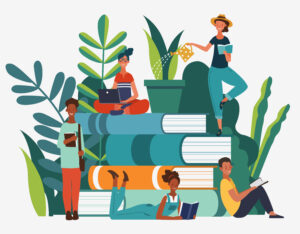 Welcome to the Cal-IPC
Student Section!
The Cal-IPC Student Section is dedicated to expanding opportunities for students interested in invasive plant research and management.
We serve as a voice for students within Cal-IPC and work to connect them with each other as well as with professionals. As a part of Cal-IPC's mission to protect California's wildlands from invasive plants now and in the future, we need the next generation of weed warriors to get involved!
Whether you're a current student, recent graduate or early career professional, if you are interested in land management and invasive species, join our student mailing list to hear about internship opportunities, student funding, and symposium-related events!
Most of our events take place at the annual Cal-IPC Symposium. Each year, we organize a variety of networking events including a Career Panel for students to learn more about
careers in weed management with representatives from a variety of fields including non-profits, academia, consulting and the government.
We also kick off every symposium with a Student Mixer to bring together all the students at the conference.
In addition to these events, there are also various funding opportunities and awards available to our student members. We started offering Student Travel Awards in 2017 to help offset travel and registration fees; we look forward to offering these every year. Students can also compete for cash prizes by participating in the annual Student Paper and Poster contests.
If you have questions about graduate school, careers in invasive plant science and management, are interested in participating in the Student Section, or simply have questions about invasive species, please don't hesitate to contact us at calipcstudents [at] gmail.com. We are happy to answers any questions you may have!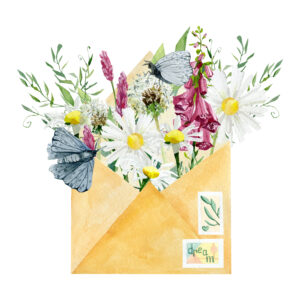 Get to know the Cal-IPC student liaisons
---
Job, Internship, and Funding Resources
Cal-IPC Student Section Job and Internship Board
Looking for research opportunities, seasonal work, internships, or more permanent opportunities in the field of invasive species and restoration? Check out current opportunities across California now on our Job and Internship Board, updated weekly! 
Other Useful Resources
---
News & Events
Register Now for the CAL-IPC 30-Year Anniversary Symposium!
To celebrate 30 years of CAL-IPC, the first 30 students and early career professionals will receive a free meal voucher! In addition to themed sessions on invasive plant science and management, student poster and lightning talk presentations, the symposium will feature a career panel, a photo contest, and networking opportunities via the Gathertown platform. Don't miss out- Join us!
* Student & Limited income discount rates available
Rates: Early Bird through Aug. 20/ Regular through Oct. 15 / Late through Oct. 25.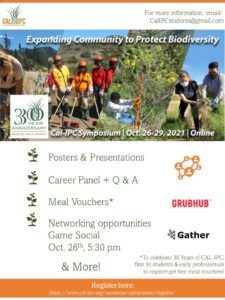 Member: $75 early bird / $100 regular / $125 late
Non-Member: $100 early bird / $125 regular / $150 late
Student Member: $25 early bird / $40 regular / $55 late / $70 late
Student Non-Member: $40 early bird / $55 regular / $70 late
Presenter: $25 early bird / $40 regular / $55 late
Student Presenter:  $0 early bird / $15 regular / $30 late
Limited income: $0 (see below)
Additional Costs/Discounts:
Charge for DPR continuing education credits: $50
Discount for attending SERCAL or CNGA: Subtract $25, (Discount code needed)
Limited income: Cal-IPC is committed to creating equitable access to our resources. This free rate is designed for members of our community who are on very limited income. Please fill out our survey form so we can report audience demographics to funders who support efforts to expand our audiences. The data gathered is completely anonymous, but may be shared in aggregate form. Discount code for this rate is in the survey form.
CAL-IPC 30-Year Anniversary Symposium Call for Abstracts now open! -Deadline June 15th
The symposium will be held online on October 26th-29th, 2021. Share your expertise by submitting an abstract about your research on invasive species! We look forward to sharing your discoveries and lessons learned.
For more information about the symposium, click here.
CAL-IPC 30-Year Anniversary Spring Fundraising Campaign-Donate before May 6th
This year marks the California Invasive Plant Council's 30-Year Anniversary, and we're celebrating by kicking off our annual Spring Campaign this Earth Day! Join us in celebrating our small-but-mighty non- profit.  Together, we've come so far – and, with your help, know that we can do even more.
Stewarding California's plants and wildlife is vital for our well-being and the heritage we will pass on to future generations. Especially in these challenging times, we are grateful for your partnership in working to protect this biodiversity.
I hope you will consider donating to our annual Spring Campaign or sharing this fundraising campaign with your community.  Your support will help us reach our goal to keep our work going strong and will help fund the Student Section.
Thank you for joining us in our work to protect California's plants and wildlife. We're all in this together. As we celebrate an Earth Day and Cal-IPC's 30-Year Anniversary, let's keep finding ways to support each other, and plan to come out of this pandemic with renewed passion for protecting our wildlands and open spaces.
Please go to this link to donate to the Student Section campaign:
https://calipc.z2systems.com/np/clients/calipc/campaign.jsp?campaign=6&fundraiser=346&
---
2020 CAL-IPC Virtual Symposium Re-cap
This year's theme was Recovery and Resilience: Confronting Fire, Weeds, and Forest Pests. Due to the global health pandemic, COVID-19, we gathered virtually to be able to safely connect with community members across the state and continue our goals of improving management of invasive species.
Student Presentation Winners
Lightning Talks
1st Place: Clarissa Rodriguez, UC Riverside
2nd Place: Katherine Brafford, UC Davis
3rd Place: Stuart Schwab, UC Riverside
Posters
1st Place: Mark Mazhnny, Cal Poly Pomona
2nd Place: Justin Luong, UC Santa Cruz
3rd Place: Andrew Lopez, UC Santa Cruz
If you are interested in reviewing any of the amazing presentations we have had over the previous years, you can check them out at the symposium archive page!
Career Panel
This year, we held a virtual career panel of amazing individuals from the private, academic and non-private sectors related to the field of invasive species management to offer advise, share personal stories, and answer questions from the audience.
Career Panelist:
Steven Addison- Job Training Center Coordinator, Civiccorps
Marko Bay- Executive Director and co-founder, Lomakatsi Restoration Project
Kari Dupler- Senior Biologist, WRA, Inc. 
Valerie Eviner-Researcher/Professor,  UC Davis
Chris Fettig- Research Entomologist, USDA Forest Service Pacific Southwest Research Station 
Jennifer Funk- Researcher/Professor, UC Davis
Adiona Kakouros- Botanist/Ecologist, SF Bay NWR Complex (US Fish & Wildlife)
Loralee Larios- Assistant Professor, UC Riverside
---
Travel Awards
The Cal-IPC student section provides travel awards to current students, recent graduates (one-year post graduation), and early-career professionals (less than 2-years cumulative experience with vegetation management in direct application/non-management capacity) who present a poster or talk at the annual symposium to aid with costs of symposium attendance.
---
2019 Symposium Re-cap
Student Poster and Talks Contest Winners

Poster
1st Place: Clarissa Rodriguez, UC Riverside
2nd Place: Joanna Tang, UC Santa Barbara
3rd Place: Stephanie Ma, UC Santa Barbara
Talk
1st Place: David Banuelos, UC Irvine
2nd Place: Shane Dewees, UC Santa Barbara
3rd Place: Stuart Schwab, UC Riverside
If you missed their presentations and would like to review the great presentations we had at this years symposium, you can check them out at the symposium archive page!
Early

 

Career

 Networking Lunch and Student Mixer
This year we had a panel of professionals who shared how their interests in plants and land management guided them towards different careers. Students and early career professionals in the audience asked the panelists questions about their journey towards landing their current job and received additional career advice.
Career Panelist:
Janice Urrutia, Orange County Parks
Jacob Bertolet, California Conservation Corps
Cris Sarabia, Palos Verdes Land Conservancy
Amelia Ryan, Pinnacles National Park
Carlos de la Rosa, Institute of Conservation Research, San Diego Zoo Global
Alissa Cope, Sage Environmental Group
Chris McDonald, UC-Agriculture and Natural Resources
---
2018 Symposium Re-cap
Student Poster and Paper Contest Winners

Poster

1st Place: Justin Luong, UC Santa Cruz
2nd Place, Martin Genova, UC Santa Cruz
3rd Place, Maddie Nolan, UC Santa Barbara
Paper
1st Place (tie): Lindsay Marks, UC Santa Barbara & Shannon Lynch, UC Santa Cruz
3rd Place: Jose Lesage, UC Santa Cruz
Early Career Networking Lunch: Key Takeaways
Gina Darin, Senior Environmental Scientist, Department of Water Resources:
When applying for a job with the government tailor your resume for each position, and include an original cover letter, CV are optional.
Once you are employed it is easier to promote to another position, so just get your foot in the door.  

Hannah Wallis, Agricultural Programs Biologist, Monterey Co. Ag. Commissioner's Office:
Applying to government positions can be tricky, often the applications are filtered through HR first and not through the department you would be hired in. Make your application as specific as possible for the job ad and hit as many key words as possible to ensure that your application makes it past HR
Hannah also mentioned the importance of having patience when seeking local government jobs it may be necessary to contact the HR department through the county website and fill out a job interest card for the Job Classification listed on the website that you are interested in, even if that job is not currently posted.
Korie C. Merrill, Preserve Manager, Center for Natural Lands Management
Korie encouraged new professionals to put themselves out there and not be afraid to stand out, as these are the people who are remembered and often called for interviews. When interviewing for a non-profit job, it is OK and normal to discuss funding sources, for example how far future funding will last, and whether the project you are considering is funded by "hard" (revenue) or "soft" (grants and donations) money.
Being a part of a non-profit has allowed her to tap into a network of diverse organizations where she has shadowed experts in fields less familiar to her and reached out to others for assistance and advice on project directions.
Tim Buonaccorsi, Botanist, RECON Environmental, inc.
Tim advised young professionals seeking a career within the industry to contain a few keys skills such as, plant identification of both native and non-native species, adequate verbal and writing communication, and basic field data entry.
2018 Cal-IPC Symposium Networking Lunch Panel
The symposium is just around the corner and we are excited to introduce this years panel for the networking lunch event. It includes an array of professionals from different disciplines including state government, environmental consulting, non-profits, and many more! Check out our panel of superstars below:
Tim Buonaccorsi, Associate Botanist, RECON Environmental, inc.
Tim currently acts as manager of northern California operations at RECON Environmental, Inc. in Berkeley, CA. Since graduating from Humboldt State University with a B.S degree in Botany, Tim has been managing habitat restoration and weed treatment projects for over 9 years. His experience includes working in landscapes ranging from The Algodones Sand Dunes near Yuma, Arizona to the great basin sage scrub near Mono Lake, CA.
Korie C. Merrill, Preserve Manager, Center for Natural Lands Management
Korie works as a Preserve Manager for the Center for Natural Lands Management, a non-profit land conservation organization. She has worked effectively on land conservation and restoration projects in challenging environments such as Togo and the California Channel Islands. Her primary focus is native habitat restoration and preservation in urban landscapes through projects such as research on invasive ant ecology and eradication, wildlife monitoring, invasive plant management, and rare plant surveys. Korie earned a Bachelor of Science degree in zoology from the University of Hawaii, Mānoa, and a Master of Science in entomology from the University of California, Riverside
Milan Mitrovich, Science Director, Natural Communities Coalition
Dr. Milan Mitrovich's background is in conservation science, with an emphasis in landscape and wildlife ecology. Over the last 12 plus years, Milan has served in research and advisory roles for several public and private sector organizations, including Solution Strategies, Inc. an environmental consulting and strategic advisory firm based out of Los Angeles; Western Ecological Research Center of U.S. Geological Survey; and Orange County Great Park Design Studio. In his current position, as Science Director for Natural Communities Coalition, Dr. Mitrovich works with the organization's directors and officers as well as representatives from partnering organizations to direct and fund science and management initiatives associated with protection and recovery of sensitive plant and animal species found within a 208,000-acre planning area in coastal and central Orange County, California. Milan holds a B.S. in Ecology, Behavior, and Evolution from University of California, San Diego, and a Ph.D. in Ecology from University of California, Davis, and San Diego State University.
Hannah Wallis, Agricultural Programs Biologist, Monterey Co. Ag. Commissioner's Office
Hannah Wallis holds the position of Agricultural Programs Biologist for the Monterey County Agricultural Commissioner's Office. This is a multidisciplinary applied biologist position in charge of Plant Pathology, Entomology and Invasive Plant Management on behalf of the Commissioner. Specifically, she screens seed crops for export, ensures the host cycle is broken for significant agricultural pathogens of local commodities, identifies pests, runs the invasive plant management program, runs the Monterey County Weed Management Area, helps plan the Central California Invasive Weed Symposium and acts as a scientific resource and liaison to the department, public and outside agencies, among other things. Hannah holds a Bachelor of Science degree in Ecology and Evolutionary Biology from the University of California at Santa Cruz and 9 specialized state and federal certificates and licenses required to work for the Agricultural Commissioner in this capacity.
Jen Funk
Jennifer Funk is an Associate Professor of Biological Sciences at Chapman University. Her research focuses on identifying characteristics of invasive plant species and using that information to restore native plant communities.  She is particularly interested in how invasive species out-compete native species for resources in arid and nutrient-poor habitats. She has worked extensively in Hawaii and all five Mediterranean-climate ecosystems.
Gina Darin
Gina is a Senior Environmental Scientist Supervisor in the Division of Environmental Services at the California Department of Water Resources (DWR) in Sacramento with over 10 years of experience working on invasive plant management in California. As part of her duties at DWR she oversees technical staff dedicated to the Fish Restoration Program and California WaterFix. Gina serves as co-chair to the DWR internal Invasive Plant Working Group and represents DWR on the Delta Interagency Invasive Species Coordination Team, the Interagency Ecological Program's Aquatic Vegetation Project Work Team, and the California Interagency Noxious and Invasive Plant Committee. Prior to working for DWR, Gina worked at the CA Department of Food and Agriculture in the Weed Management Area (WMA) Program. She has a B.S. in Marine Science from Eckerd College, St. Petersburg, FL and an M.S. specializing in Weed Science with Dr. Joe DiTomaso from UC Davis (2008).
Rich Thiel
Vegetation Manager and Invasive Plants Specialist, Sequoia National Park, CA
Eric Wrubel
Eric is a  Plant Ecologist/Botanist, for Golden Gate National Recreation Area, CA. He has over ten years experience in vegetation resources in California.
---
August 2018
Congratulations to our 2018 Student Travel Award winners Rebecca Serata (UC Davis), Madeline Nolan (UC Santa Barbara), Michala Phillips (UC Riverside), Jade Blennau (Stony Brook University), Mika Hozawa (Kyoto University), Lindsay Marks (UC Santa Barbara), and Temitope Borokini (University of Nevada, Reno). Looking forward to hearing about your projects at the Symposium!
---
May 2018
Get ready for the 2018 Cal-IPC Symposium!
Do you have a topic to present? Join us in Monterey, November 7 – 10, and share your research. Abstracts are due June 1st. This year the Student Section will be offering Travel Awards to offset costs for attendance as well as monetary awards for top Student Talk and Student Poster. We will also be holding a Student and Early Career Professional Networking Lunch. Check back soon for more details on Student Section events and award deadlines and go to the Symposium page to submit an abstract!
---
February 2018
Launching Cal-IPC Student Section Job and Internship Board
We just launched a job and internship board full of current opportunities in the fields of invasive species and restoration research and management! We'll be updating it weekly.
---
January 2018
New Student Liaison
We welcome Guy Hernandez and Marlee Antill, both Master's students at Cal Poly Pomona, on board as a Student Liaisons. Look out for us at the upcoming CNPS conference in LA at the end of the month!
---
October 2017
Cal-IPC Symposium Career Panel
For the Career Panel at the 2017 Cal-IPC Symposium, we brought together a stellar group of professionals working for the government, non-profits, and in various academic-related positions. Our panelists included:
Heather Schneider, a Rare Plant Biologist at the Santa Barbara Botanic Garden
Judy Perkins, the Mojave Desert Native Plant Coordinator at the Bureau of Land Management
Travis Bean, the Cooperative Extension Weed Science Specialist at UC Riverside
Jutta Burger, the Managing Director of Science and Stewardship at Irvine Ranch Conservancy
Jennifer Funk, Associate Professor at Chapman University.
Panelists talked about work-life balance, skills necessary to obtaining a job in their respective organizations, the two-body problem, and the winding path that took them from graduate school into their current careers.
Student Paper and Poster Contest
Congratulations to our 2017 winners and runner-ups:
For a full list of past Student winners, visit the Symposia Awards page.
---
September 2017
New Student Liaison
We welcome Noah Teller, PhD student at UC Riverside, on board as a Student Liaison. We look forward to working with you to expand our student section!
Student Travel Awards
Congratulations to the first round of student travel award recipients:
Karen Tanner, UC Santa Cruz
Noah Teller, UC Riverside
Brooke Pickett, UC Riverside
Monique Silva Crossman, Humboldt State University
---
Anthony Dant, University of Arizona (2021 – Present)
Clarissa Rodriguez, UC Riverside, (2019 – Present)
Katherine Brafford, UC Davis (2019 – Present)
Rebecca Nelson, UC Davis (2021- Present)
Robert Fitch, UC Santa Barbara (2019 – Present)
Stuart Schwab, UC Riverisde (2021 – Present)
Past Student Liaisons
Noah Teller, UC Riverside (2017 – 2021)
Marina LaForgia, UC Davis (2014-2018),
Marlee Antill, Cal Poly Pomona (2018 – 2019)
Guy Gabriel Hernandez, Cal Poly Pomona (2018 – 2019)
Amanda Swanson, UC Riverside (2016 – 2017), Postdoctoral Researcher at University of Wyoming
Justin Valliere, UC Riverside (2014 – 2016), Postdoctoral Researcher at UCLA
Bridget Hilbig, UC Riverside (2012 – 2014), Assistant Professor at Weber State University
Meghan Skaer Thomasen, UC Davis (2012 – 2014), Resident Ecology, Exotic and Invasive Weeds Research, USDA
Kai Palenscar, UC Riverside, US Fish and Wildlife
Chelsea Carey, UC Merced, Senior Soil Ecologist for Point Blue
Heather Schneider, UC Riverside, Rare Plant Biologist at the Santa Barbara Botanic Garden
Sara Jo Dickens, UC Riverside, Ecologist and Science Communicator at Ecology Bridge LLC
Mike Bell, UC Riverside, Postdoctoral Researcher at UC Irvine