October 28-31, San Diego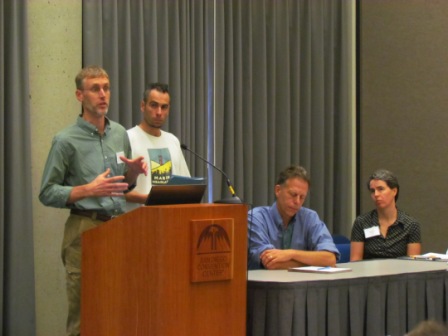 Ed King, Placer Co. Ag. Dept. and Pete Frye, Marin Co. Open Space District discuss how their agencies are using Calflora's Weed Manager system
Photo: J.P. Marie
View program and abstracts.
Links below are pdf files converted from Powerpoint presentations.
Training: Strategic Approaches to Wildland Weed Management
DPR: Laws and Regulations
Session 1. Habitat Conservation Planning and Invasive Plant Management
HCP Session 1. Invasive Plant Management through Habitat Conservation Planning
Session 2. Stopping New Invaders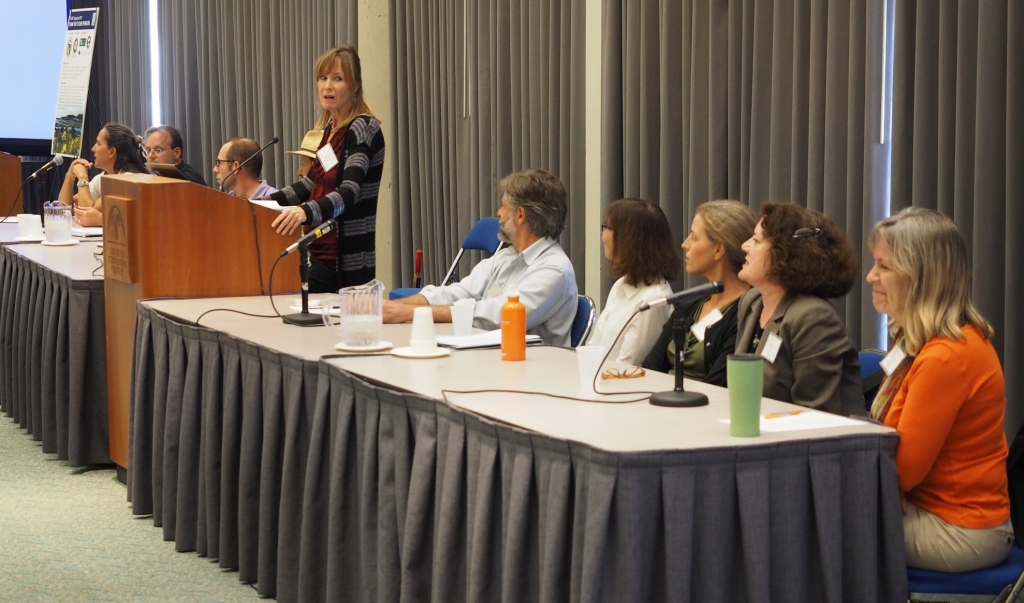 Panel discussion on How Habitat Conservation Planning Can Support Strong Landscape-Level Invasive Plant Management in the Future
Photo: Drew Kerr
HCP Session 2. The Future of Habitat Conservation Planning in California
Session 3. Drones and Phones: New Tools for Invasive Plant Management.
Session 4. Invasive Plant Research I
Session 5. Invasive Plant Management
Session 6. Discussion Panel: How Habitat Conservation Planning Can Support Strong Landscape-Level Invasive Plant Management in the Future
Session 7. Wildland Weeds of Alta and Baja California Deserts
Session 8. Building Conservation Corps into Invasive Plant Management Projects
Doing more for less: Using Conservation Corps as an organizational capacity multiplier.
Kyle Gunderman, American Conservation Experience
River Partners and the Conservation Corps – a win-win partnership for job creation, invasive species removal, and habitat restoration.
Andrew Rayburn, River Partners
The perfect partnership! Engage & train urban youth, garner additional funding, get the job done.
Panel: Kyle Gunderman, ACE; Leah Healy, Urban Corps of San Diego Co.; Robert Skillman, Los Angeles Conservation Corps; Rhody Soria, California Conservation Corps
Session 9. Discussion Groups
Invasive plant management Q&A.
Using non-native species in restoration.
WHIPPET prioritization tool – a demonstration.
Putting smartphones to work for invasive plant management.
Working effectively with Conservation Corps.
Session 10. Strategies for Eradication Success
Session 11. Invasive Plant Research II
Session 12. The Future of Invasive Plant Management
Projecting the Future of Invasive Plant Management
Panel discussion and audience questions
Posters
Integrated management project of mesquite in Oman.
Saud Al Farsi, Ministry of Agriculture & Fisheries, Sultanate of Oman
Resisting re-establishment of invasive plant species in fuels-reduction areas.
Joseph Algiers, Jr., National Park Service
Susceptibility of invasive blackberry species to rust disease by Phragmidium violaceum in Oregon.
William L. Bruckart, III, USDA-Agricultural Research Service
Eradicating weeds in Sierra meadows for climate change resilience. Elizabeth Brusati, Cal-IPC
A plant risk evaluation (PRE) tool for assessing the invasive potential of ornamental plants. Christopher Crawford, Sustainable Conservation
Phenological and population responses of the invasive pioneer tree, Bellucia pentamera (Melastomataceae) to selective logging disturbance at Gunung Palung National Park, Indonesia.
Christopher Dillis, UC Davis
The interaction of nitrogen and topography on the physiology of Stipa pulchra.
Robert Fitch, California State Polytechnic University, Pomona
The effects of nitrogen deposition and plant invasion on litter decomposition.
Eliza Hernández, California State Polytechnic University, Pomona
Multi-benefit weed control: the San Joaquin River Invasive Species Management and Jobs Creation Project.
Jeff Holt, River Partners
Assessing spatio-temporal changes of invasive Algerian sea lavender (Limonium ramosissimum) in San Francisco Bay wetlands.
Kerstin Kalchmayr, San Francisco State University
Rapid root responses of native and invasive California plants exposed to a post-drought precipitation pulse. Joanne Kim, Chapman University
Seedbank-mediated coexistence of invasive annual grasses and native annual forbs under a changing climate.
Marina LaForgia, UC Davis
GrassApp, a tool that helps landowners facing grass invasion.
Dorothy Y. Maguire, Boise State University and USDA-Agricultural Research Service
Livestock grazing and landscape diversity in California vernal pools. Julia Michaels, UC Davis
Chemically cleaning your boots: The use of disinfectants to reduce the dispersal of invasive weed seeds.
Christopher McDonald, UC Cooperative Extension
Identifying emerging invasive plants for early eradication on the San Mateo County coast.
Dana Morawitz, Cal-IPC
Do native and invasive species share similar carbon capture strategies?
Monica Nguyen, Chapman University
Pre-release impact assessment of the leaf-mining moth (Digitivalva delaireae), a potential biological control agent for Cape-ivy (Delairea odorata).
Angelica M. Reddy, USDA-Agricultural Research Service
Soil-mediated impacts of the invasive grass Ehrharta erecta on a forest understory community.
Annika Rose-Person, UC Santa Cruz
Ecological and economic implications of invasive giant reed (Arundo donax) control for the Santa Clara River watershed.
Marc Steele, UC Santa Barbara
Results of velvetgrass (Holcus lanatus) control in the Kern Canyon wilderness of Sequoia National Park.
Rich Thiel, Sequoia and Kings Canyon National Parks
Successful habitat restoration of a native thistle following jubata grass control.
Don Thomas, San Francisco Public Utilities Commission
Importance of effective public outreach for invasive vegetation removal projects in the Santa Ana River floodplain, Riverside County, CA.
Melissa Tu, Atkins North America
---
See our Symposia Archive for presentations, proceedings and discussion group notes for previous symposia.