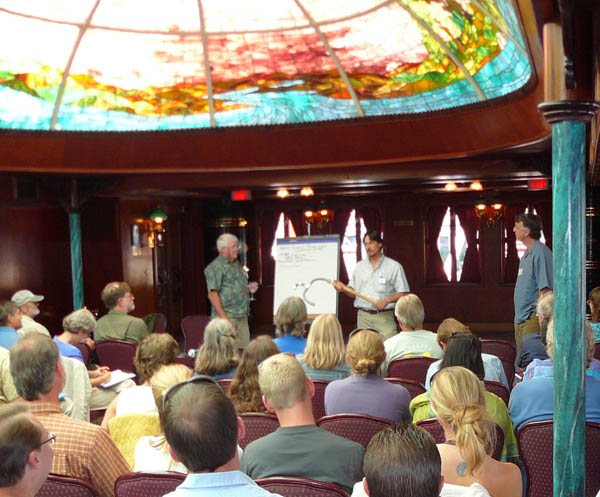 Cal-IPC 2007 Symposium, San Diego
Photo: Cal-IPC
Conservation and Communication: The Human Dimension in Invasive Plant Management
September 20 – 22 at the Bahia Resort Hotel in Mission Bay, San Diego
Thanks to our sponsors for their generous support of Cal-IPC and the Symposium.
DPR Continuing Education Credits
Mapping Field Course: 6.0 hrs Other; Code: A-1116-07
Thursday: 5.5 hrs Other; Code: A-1148-07
Friday: 5.0 hrs Other + 2.0 hrs Laws & Regs. OR 7.0 hrs Other; Code: A-1149-07
Saturday Field Trips: 4.0 hrs Other; Code: A-1150-07
2007 Weed Alerts
See our Invasive Plant Alerts page for Dr. Joe DiTomaso's presentation on weeds to watch out for.
2007 Symposium Presentations
Note: These are large PDF files converted from Powerpoint presentations. You may need to download the most recent version of Adobe Acrobat Reader to view them. Unavailable presentations have been withheld from publication at the presenter's request.
* Indicates presenter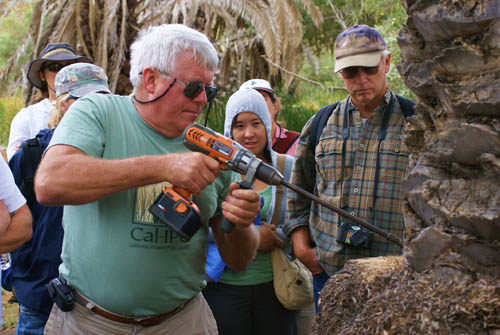 2007 post-Symposium Field Trip, San Diego
Photo: Bob Case
Invited Session 1 – Building Lasting Coalitions
Contributed Session 1 – Mapping and Planning
Contributed Session II – Management
Contributed Session III – Management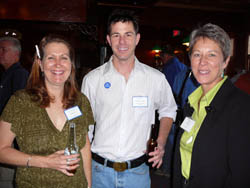 Board members Wendy West and Dan Gleusenkamp and board member-elect Beth Keer enjoy the social hour at the 2007 Cal-IPC Symposium, San Diego
Photo: Cal-IPC
Contributed Session IV – Biological Control
Invited Session II – Designing Effective Communication Strategies
Contributed Session V – Research
Laws and Regulations
Closing Session – Emerging Issues in Invasive Plant Management
Posters
The Salmon River experience: Tools of the trade. Petey Brucker and Shannon Flarity*, Salmon River Restoration Council
Trials on chemical control of periwinkle (Vinca major) and Cape ivy (Delairea odorata). Casey Burns1 and Stevie Adams2 ; 1 USDA Natural Resources Conservation Service (NRCS), Somis, CA; 2Ojai Valley Land Conservancy, Ojai, CA; *Presented by Shea O'Keefe, NRCS, Escondido, CA
Wildly successful restoration & mitigation: A contractor's perspective. (1 MB) John Caruana, Lisa LaMond*, Michelle Caruana. Nature's Image
Native plant restoration along highway rights-of-way in California. Vic Claassen* and Steve Young, UC Davis
Coyote Creek floodplain reclamation project – Re-establishing native plant habitat. (0.3 MB) Jennifer Codianne*, and Leo Dumont, Santa Clara Valley Water District
Managing coastal sand dunes on Camp Pendleton. (127 KB) Meghan Dinkins* and Benjamin Lardiere, MCB Camp Pendleton
GeoWeed: A new weed data management tool. Deanne DiPietro* and Zhahai Stewart, Sonoma Ecology Center
A look at California Department of Food and Agriculture's pest exclusion branch noxious weed policies. Katie Filippini, California Department of Food and Agriculture
Tributaries to the Upper Santa Clara River, Los Angeles. Elihu Gevirtz, Jennifer Jackson, and Nadine Martins. Condor Environmental Planning Services, Inc.
Biological soil crusts and the effects of their disturbance on the germination of exotic vascular plants in coastal sage scrub. Rebecca R. Hernandez* and Darren Sanduist, CSU Fullerton
Controlling giant reed (Arundo donax) within the Tijuana River Valley. Robert W. Hobbs1*, Julie Simonsen-Marchant1, Tito Marchant1, and John Boland2, 1EcoSystems Restoration Associates, 2Southwest Wetlands Interpretative Association
Restoring San Francisco's Tidal Marshes: The Demise of Invasive Spartina. Ingrid B. Hogle*, Peggy Olofson, Erik Grijalva and Drew Kerr, San Francisco Estuary Invasive Spartina Project
Applied ecology of Eurasian watermilfoil (Myriophyllum spicatum L.) in Fall River. (0.1 MB) Thaddeus Hunt*, Joseph M. DiTomaso, and David F. Spencer, UC Davis.
Thread-leaved Brodiaea weed control for habitat restoration: Implementation, maintenance and monitoring. Shirley Innecken*, Robert MacAller, Mark Dodero RECON Environmental
Noxious weed display of Gila County Arizona. (37 KB) Christopher Jones1* and Karrol Braddock21University of Arizona Gila County Cooperative Extension, 2Master Watershed Stewards Program
Drilling and injecting two invasive palm species. Mike Kelly1*, Bonnie Peterson2, and Stephanie Bracci3. 1Kelly & Assoc., 2Merkle & Assoc., 3City of Metropolitan Wastewater Dept.
The efficacy of alternative herbicides on non-native invasive woody broadleaf perennials. Janet Klein and Cerissa Hoglander*, Marin Municipal Water District
Eradicating 25 species- Challenges and successes of switching from population to seed bank management on Catalina Island, California. (2.1 MB) John Knapp1*, Sarah Ratay1, and Jon Hall (formerly with the Catalina Island Conservancy), 1Catalina Island Conservancy, Avalon, CA.
Plant community and ecosystem effects of Arundo donax invasion. Adam Lambert1,2 and Tom Dudley*2 1Eastern Connecticut State University, 2 UC Santa Barbara
Ecology and future biocontrol of cape ivy in Southern California. Nicole Molinari1*, K . Seward2, F. Burton3, Y. Tamagawa2, T. Dudley4, C.D'Antonio3,1, D. Chang5 & J. Balciunas6, 1Ecology, Evolution & Marine Biology, 2College of Creative Studies, 3Envir. Studies, 4Marine Science Inst., UC Santa Barbara; 5Santa Barbara County Agriculture Commissioner's Office; 6USDA Agricultural Research Service
Milestone™ (aminopyralid): New research results of efficacy on noxious and invasive weeds. Vanelle Peterson 1, Bruce Kidd*1, Joe DiTomaso2, Carl Bell2, Celestine Duncan3, Bob Wilson4, Joe Yenish5, Mike Moechnig6, Mary B. Halstvedt1, and Randy L. Smith, 1Dow AgroSciences, 2UC Davis, 3Weed Management Services, 4University of Nebraska, 5Washington State University, 6South Dakota State University
Figs and bridal creeper: Two stubborn weeds that require ingenuity. Sarah Ratay* and John Knapp, Catalina Island Conservancy
Invasive species research at the National Park Service Pacific Coast Science and Learning Center. (17 KB) Jane Rodgers1, Tiffany Knight2, and Caroline E. Ridley*3, 1Point Reyes National Seashore, 2Washington University, 3UC Riverside
Effects of non-native aphids (Hyalopterus pruni) on competition between native and non-native Phragmites australis. Yoshi Tamagawa*, Adam M. Lambert, UC Santa Barbara
TNC's Weed Information Management System (WIMS) – An application tool for invasive species management. (0.1 MB) Mandy Tu*, The Nature Conservancy's Global Invasive Species Initiative, Portland, OR
Discussion and Working Group Notes
Symposia Archive
Presentations, proceedings and working group notes for previous years' symposia:
2006 | 2005 |
2004 |
2003 |
2002-2000 |
1997 |
1996 |
1995