Ventura, California, October 14-16, 2010
Weeds and Wildlife: Impacts and Interactions
View full program with abstracts (2.0 MB).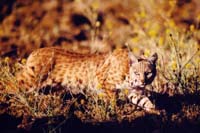 Bobcat traveling through yellow starthistle.
Photo: Brian Murphy
These are pdf files converted from Powerpoint presentations. You may need to download the most recent version of Adobe Acrobat Reader to view them. Unavailable presentations have been withheld at the presenter's request. *Indicates presenter
2010 Weed Alerts
See our Invasive Plant Alerts page for this year's presentation on weeds to watch out for.
Keynote Address
Weeds and wildlife, impacts and interactions: A case study from Santa Cruz Island, California. Scott Morrison, The Nature Conservancy.
Trends in Early Detection Mapping
DPR Laws and Regulations
Student Paper Contest
Herbicide treatment of an invaded grassland following a prescribed fire (2.2 MB). Michael Bell,* Sara Jo Dickens, Heather Schneider, Kai Palenscar, and Lynn Sweet, UC Riverside.
Resident community species diversity and invader genetic diversity do not affect the establishment of an annual exotic grass (37.6 MB). Heather McGray* and Katharine Suding, UC Irvine.
The effects of climate change on the growth of barbed goatgrass (Aegilops triuncialis) in serpentine grasslands (3.2 MB). Elise Morrison,* Amy Battaglia and Barbara Going, UC Davis.
Ecological correlates of fountain grass (Pennisetum setaceum) in California coastal sage scrub. Lynn Sweet* and Jodie Holt, UC Riverside.
Origins of invasive French Broom ( 2 MB). Anabelle Kleist, UC Davis.
Exotic plant invasion interrupts chaparral ecosystem resistance, resilience and succession ( 0.6 MB). Sara Jo Dickens, Edith B. Allen,
L.S. Santiago, and D. Crowley, UC Riverside.
Managing Invasive Plants
Strategic planning for control of Arundo donax and restoration of riparian vegetation in semi-arid landscapes: A case study from the lower Santa Clara River, CA. (4.6 MB) Bruce Orr and Zooey Diggory, Stillwater Sciences, Tom Dudley, UC Santa Barbara.
Euphorbia terracina: Why worry? (2.6 MB). Ann Dorsey,* Erin Aviña, and Christy Brigham, Santa Monica Mtns Nat'l Recreation Area.
Testing efficacy of control methods of the invasive shrub Cytisus scoparius in forest habitat of the Pacific Northwest (2.1 MB). Karen A. Haubensak, Northern Arizona University.
Solar tents demonstrated to be effective in several California climatic areas for inactivating plant propagative material. James J. Stapleton*, UC Kearney Agricultural Center, Carl E. Bell, Southern California, Kristin A. Weathers and Milton E. McGiffen, Jr, UC Riverside.
Balancing Management for Invasive Plants
Invasive Plant Impacts to Wildlife
Grazing, Weeds, & Wildlife
Habitat Restoration
Managing Weeds & Wildlife on the Channel Islands
Bringing It All Together
Discussion Groups
Posters
STUDENT POSTER CONTEST
CONTRIBUTED POSTERS
Control of barbed goatgrass in serpentine grasslands. Paul A. Aigner, UC Davis McLaughlin Reserve.
Effects of invasive Limonium ramosissimum on native salt marsh communities in a changing environment. Autumn Cleave, San Francisco State University.
Eriogonum hybrid eradication program on Santa Cruz Island, California: Eliminating one island endemic to protect another. Coleen Cory, The Nature Conservancy.
Use of non-native plants by island foxes: Conservation implications. Brian Cypher, CSU Stanislaus.
Linking vegetation dynamics with physical processes to develop invasive plant control and riparian restoration strategies for a semi-arid river and its floodplain. Zooey Diggory, Stillwater Sciences.
Preventing invasion through mineral materials inspections. Martin Hutten, Yosemite National Park.
Trials of aminopyralid and a cut-and-dab method for Himalayan blackberry control. Laura Jones, Yosemite National Park.
Herbicide control of velvet grass in Yosemite National Park. Laura Jones, Yosemite National Park.
Adaptive integrated vegetation management of invasive Spartina densiflora in the San Francisco Estuary. Drew Kerr, San Francisco Estuary Invasive Spartina Project.
Santa Clara River Research Station: Developing a preserve with a watershed focus. Adam M. Lambert, UC Santa Barbara.
The spread and control of Dittrichia graveolens. Meg Marriott, US Fish & Wildlife Service.
Avian response to Arundo donax invasion on the Lower Santa Clara River. Devyn A. Orr, UC Santa Barbara.
Prioritizing invasive plant eradication in the San Francisco Bay Area. Mike Perlmutter, Bay Area Early Detection Network.
Predicting the spread of invasive plants in the Sierra Nevada. Cynthia Powell, Cal-IPC.
Successful tactics for controlling the invasive fennel (Foeniculum vulgare) on Santa Cruz Island, Channel Islands National Park. Paula Power, Channel Isl. NP.
An evaluation of flooding risks associated with giant reed (Arundo donax). David F. Spencer, USDA ARS.
Developing time*temperature inactivation models for thermal death of black mustard (Brassica nigra) seeds. James Stapleton, UC Kearney Agricultural Center.
Invasive pine tree impacts on coastal scrub vegetation in the Marin Headlands. Robert Steers, National Park Service, Inventory and Monitoring Program.
Prescribed burning controls barb goatgrass (Aegilops triuncialis L.) in Central Valley rangeland for up to five years. Sara Sweet, The Nature Conservancy.
Effects of the invasive species Arundo donax on bank stability in the Santa Clara River, Ventura, CA. Jiana ten Brinke, UC Santa Barbara.
Can carbon addition be used to reverse the effects of atmospheric nitrogen deposition? Don Thomas, San Francisco Public Utilities Commission.
Mapping flammable invasive weeds in the South Shore area of Lake Tahoe. Ian Turner, Tahoe Resource Conservation District.
---
Symposia Archive
Presentations, proceedings and working group notes for previous years' symposia:
2009 |
2008 |
2007 |
2006 |
2005 |
2004 |
2003 |
2000-2002 |
1999 |
1998 |
1997 |
1996 |
1995