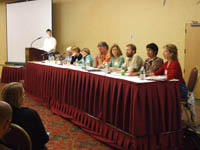 Cal-IPC 2006 Symposium, Rohnert Park
Photo courtesy Bob Case
Solving California's invasive plant crisis requires rapid translation of research results into management actions. In addition, natural resource
managers are often the first to identify interesting questions that become compelling research topics. The 2006 Symposium explored commonalities and conflicts
at the interface of research and management, with invited speakers from both realms.
2006 Symposium Presentations
Research and Management: Bridging the Gap
October 5th–7th at the Sonoma Doubletree Hotel in Rohnert Park
Thanks to our sponsors for their generous support of Cal-IPC and the Symposium.
DPR Continuing Education Credits
Tools for Early Detection field course, Oct. 4: 7.0 hrs. Other, code A-1288-06
Thursday, Oct. 5: 6.0 hrs. Other, code A-1285-06
Friday, Oct. 6: 6.0 hrs. total, code A-1286-06. Those who attended the Laws and Regulations session,
received 2.0 hrs. of Laws and Regs. credit plus 4.0 hrs. Other. Those not attending Laws and Regs. received
6.0 hrs. Other.
Saturday, Oct. 7: 4.0 hrs. Other, code A-1287-06
2006 Weed Alerts
Dr. Joe DiTomaso gave a presentation on weeds to watch out for.
2006 Symposium Presentations
Note: These are large pdf files converted from Powerpoint presentations.You may need to download the most recent version of Adobe Acrobat Reader to view them.
Riparian and Aquatic Invasives
Management and Economic Impacts (contributed papers)
Bridging the Gap: Research (invited papers)
Early Detection (contributed papers)
Successful non-chemical management of spotted knapweed through partnership. (2.8 MB) Marla Knight1*, & Steve Orloff2, 1US Forest Service, 2UC Cooperative Extension
Euphorbia terracina: Be afraid, be very afraid. Christy Brigham, National Park Service
Central Valley vernal pools invaded by waxy mannagrass. John Gerlach1*, & Harald Meimberg2, 1Environmental Science Associates, 2UC Davis
Field-testing an invasive plant species early detection protocol in the San Francisco Area Network of National Parks. (2.4 MB) Andrea Williams* & Elizabeth Speith, San Francisco Area Network Inventory & Monitoring Program
Does horse manure harbor invasive plants? (0.7 MB) Lauren Quinn1*, Bonnie Davis2, Mietek Kolipinski1,3, & Sibdas Ghosh1. Dominican Univ. of CA1,
Independent Project Consultant2, Nat'l Park Service3
Restoration (contributed papers)
Two years of Ludwigia control in the Laguna de Santa Rosa: Process and progress. (5.5 MB) Thomas J. McNabb1*, & Julian Meisler2, 1Clean Lakes, Inc., 2Laguna de Santa Rosa Fndn.
Response of the endangered San Diego ambrosia (Ambrosia pumila) to removal of competition from non-native plants. (2.5 MB) Eliza Maher* & Edward Stanton, Center for Natural Lands Mgmt.
An evaluation of Whiskeytown's shaded fuelbreaks. (6 MB) Jennifer Gibson* & Windy Bunn, Nat'l Park Service
Restoration of degraded agricultural lands in the San Joaquin Valley using herbicides & activated charcoal. (5 MB) Kenneth D. Lair1*, Nur Ritter2, & Adrian Howard2, 1Bureau of Reclamation,
2CSU Stanislaus (Ken Lair was unable to attend, but sent this presentation.)
Restoration of desert wetlands dominated by tamarisk and pampas grass. (6 MB)Tito Marchant,* Robert Hobbs, Annie Hill, & Julie Simonsen-Marchant. EcoSystems Restoration Associates
Laws and Regulations (presentations for licensed applicators)
Spartina and Lepidium
Bridging the Gap: Management (invited papers)
Bridging the Gap Panel – Notes from the concluding panel
Posters
Invasive aquatic weeds: Implications for mosquito and vector management activities. Charles E Blair, MD*, Mosquito and Vector Management District of Santa Barbara County
Invasive plant monitoring using volunteers: A nationwide effort. Giselle Block1*, Ingrid Hogle2, Renee Spenst2, Samuel Leininger2, 1U.S. Fish and Wildlife Service, San Pablo Bay NWR, 2Information Center for the Environment, UC Davis
The Salmon River experience- Tools of the trade. *Petey Brucker, Salmon River Restoration Council
Flaming as a method of medusahead (Taeniatherum caput-medusae) control on the Plumas National Forest. Michelle Coppoletta* USDA Forest Service, Plumas National Forest
Developing a handbook summarizing the use of livestock as a tool in noxious weed management programs in the western United States. Jason Davison1*, Ed Smith2, Linda Wilson3, 1U. of Nevada, Cooperative Extension, 2U. of Nevada, Cooperative Extension, 3U. of Idaho
The invasion of Eupatorium odoratum in logged-over tropical monsoon forest at the watershed of Bian-Kumbe in Merauke, Papua Indonesia. Tjut Sugandawaty Djohan, Gadjah Mada University, Indonesia, Visiting scholar Saint Mary's College of California
Progress and regress in the biological control of tamarisk in California. Tom L. Dudley1*, Peter Dalin1 and Benjamin Rice2, 1Marine Science Institute, UC Santa Barbara, 2USDA-ARS,
The Invasive Species Program at the California Department of Fish and Game. Susan Ellis and Julie Horenstein*, Habitat Conservation Planning Branch, California Dept. of Fish and Game
Salmon River Cooperative Noxious Weed Program. Shannon Flarity* Salmon River Restoration Council
A biological basis of plant invasions: Can seedling relative growth rate predict invasive woody species? Eva Grotkopp, Kelsey Galimba, Andrew Holguin, Jordan Thompson, Michael Bower*, Jennifer Erskine Ogden, and Marcel Rejmánek, UC DavisSpecies table
An analysis of the cost and effectiveness of various control methods for fennel (Foeniculum vulgare) in Natividad Creek Park, Salinas, CA. (9 MB) Abigail Gwinn*, Return of the Natives, CSUMB Watershed Institute
The proliferation of Arundo donax in Arroyo Las Posas. (1.7 MB) Anna-Maria Huber (student)* CSU Northridge, Ventura County Resource Conservation District.
The effect of native forb abundance on invasion resistance in California grasslands. (265 KB) Kris Hulvey*, Erika Zavaleta, UC Santa Cruz
Ventura River Arundo Removal Demonstration Project. (1.7 MB) Dennis Kanthack*, Ventura County Watershed Protection District, and Peggy Rose, Ventura Resource Conservation District
Preventing horticultural plant invasions through collaboration: The Cal-HIP model. Terri Kempton, Sustainable Conservation
Water, salt, and pepper: Lepidium latifolium invasion potential along a salinity and moisture gradient. (3 MB) Samuel Leininger*, Theodore Foin, UC Davis
Riparian revegetation outcomes on California north coast ranches. Michael Lennox1*; D. Lewis1; D. Stokes5; R. Jackson2; J. Harper1; B. Allen-Diaz3; S. Larson1; P. Northen5; R. Katz1; and K. Tate4. 1UC Cooperative Extension, 2University of Wisconsin, Madison, 3UC Berkeley, 4UC Davis, 5Sonoma State University
Testing methods of weed management in the restoration of Riverside County old fields. Robin G. Marushia* and Edith Allen, Dept. of Botany and Plant Sciences, UC Riverside
Invasive plant management and restoration at the landscape scale: Assessment and mapping techniques. Sean McNeil1, Greg Fisher1, Noelle Johnson1, Russell Jones1, and Elizabeth Lotz, 1Center for Ecological Restoration and Stewardship, Circuit Rider Productions, Inc.
Molecular evidence supporting the horticultural origin of invasive jubata grass (Cortaderia jubata). Miki Okada1*, Mark Lyle2 and Marie Jasieniuk1, 1UC Davis, Dept. of Plant Sciences
Managing rangeland invasive plants with Aminopyralid (Milestonetm). R.L. Smith1, V.F. Carrithers1, R.A. Masters1, M.B. Halstvedt1, C. Duncan2, J. DiTomaso3, R.G. Wilson4, S. Dewey5, 1Dow AgroSciences, LLC, 2Weed Management Services, 3UC Davis, 4U. of Nebraska 5Utah State University
Assessment of treatment effectiveness and relative cost of giant reed (Arundo donax) removal in the Tijuana River Valley Julie Simonsen-Marchant1*, John Boland2, Braden Hogan1, and Tito Marchant1, 1EcoSystems Restoration Associates, 2Southwest Wetlands Interpretive Association
Prospects for biological control of Russian thistle (tumbleweed). Lincoln Smith1*, Rouhollah Sobhian2 and Massimo Cristofaro3, 1USDA-ARS, 2USDA-ARS-EBCL,3ENEA C.R. Casaccia
Control of Phalaris aquatica on lowland coastal terrace prairie in Richmond, CA. Monica Stafford, Sharon Farrell and Claire Beyer, The Watershed Project
Determining the best management technique for Italian thistle. Edward Stanton* and Eliza Maher, Center for Natural Lands Management
Discussion and Working Group Notes
Symposia Archive
Presentations, proceedings and working group notes for previous years' symposia:
2005 |
2004 |
2003 |
2002-2000 |
1997 |
1996 |
1995