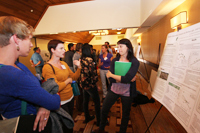 2013 poster session.
Photo: Drew Ready
Taking the Long View
October 2-5, 2013, Lake Arrowhead
View program and abstracts. Links below are pdf files converted from Powerpoint presentations.
Pre-Symposium workshop:
Climate-Smart Land Management
Presentations and additional resources are available at under the Climate Adaptation section of our website.
DPR Laws and Regulations
Session 1. Learning from Southern California Deserts and Mountains
Presentations differ from the printed program due to the federal government shutdown.
Session 2. Annual Member Meeting
Session 3. Communication and New Threats
Session 4. Program Strategies
Session 5. Current Student Research
Session 6. Tools of the Trade
Session 7. The Novel Ecosystem Debate Reframed for Land Managers
Session 8. Discussion Groups
IPM Q and A
Invasive species beyond weeds: Aquatic species | Golden-spotted oak borer
Prioritization tools and landscape-level planning
Novel ecosystems and climate-smart land management
Saharan mustard
Biocontrol
Session 9. Nitrogen Deposition
Session 10. Grassland Management
Session 11. Impacts of Invasive Species on Ecosystem Services
Posters
Student Posters
General Posters
---
See our Symposia Archive for presentations, proceedings and discussion group notes for previous symposia.