August 27, 2009
Sponsor Cheryl's 100-mile run
and support Cal-IPC…
click here!

color>
Some weed workers show their dedication by enduring yellow starthistle spines or hacking through jungles of giant reed. Cal-IPC board member Cheryl McCormick will do her part by running 100 miles (in one day!) to raise funds for Cal-IPC and promote awareness of the damage that non-native plant species inflict on California's native habitats.
On Thursday, August 27, Cheryl will begin running at the Santa Lucia Preserve in Carmel at the head of the Santa Lucia Mountains at 5:00 a.m., running with a headlamp, and continue through the communities of Carmel Valley, Carmel-By-the-Sea, Pebble Beach, Pacific Grove, Monterey, Seaside, and Marina to Ft. Ord in Monterey.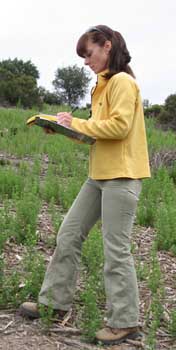 When Cheryl's not running, she can be found monitoring French broom control sites.
Cheryl began training for the run in late January, running 40 to 60 miles per week. She will run regardless of the weather conditions. Cheryl says, "My longest run to date has been 50 miles, but I'm determined to make my goal and know that I can do it, with help from my friends, family, and supporters. Running 100 miles has been a personal goal for a long time. If I can couple my passion for distance running with my dedication to eradicating non-native, invasive plants from California's beautiful native landscapes, then it's a worthwhile use of my time and energy. I'll be suffering for a wonderful cause!" color>
Cheryl hopes to raise $7,500 with the Run for the Wildlands to support Cal-IPC's programs working to protect California's wildlands from invasive plants! To support Cheryl's run by making a contribution online, click here.
Or send a check payable to Cal-IPC (with "Wildlands Run" listed in the memo line) to Cal-IPC, 1442-A Walnut St., #462, Berkeley CA, 94709.
Less than six weeks till Cheryl's run, and two weeks into fundraising and she's already receive $1,250 in support. That's her "running" total!
See Cheryl's blog.
See Cheryl's route map.
See a recent New York Times article featuring Cheryl and friends reviewing runners' logs.
Warning: include(inc/pageend.php): failed to open stream: No such file or directory in /www/calipc–current/policy/state/Run4Wildlands.php on line 45
Warning: include(): Failed opening 'inc/pageend.php' for inclusion (include_path='.:') in /www/calipc–current/policy/state/Run4Wildlands.php on line 45