Strengthens response to aquatic weeds in the Delta, lays foundation for invasive plant programs at Dept. of Fish & Wildlife
Assembly Member Joan Buchanan (District 16) has introduced AB 763, sponsored by Cal-IPC, to strengthen the state's ability to respond to invasive aquatic plants in the Delta. Currently, the detection of a new invasive aquatic plant in the Delta requires legislative action before the Department of Boating & Waterways (DBW) can control it. Last year Ms. Buchanan's AB 1540 was needed to allow DBWÂ to control South American spongeplant, a full five years after the known invasive was found in the Delta. This year's bill aims to fix the problem so that future detections can be responded to much more quickly.
Importantly, the bill also adds a definition of "invasive species" into Fish & Game code, which will serve as a foundation for further developing invasive species programs at the Department of Fish & Wildlife (DFW). While we continue to support renewed funding for the weed programs that have been eliminated at the Department of Food & Agriculture, we believe that a complementary invasive plant program at DFW aligns directly with the department's mission to "manage California's diverse fish, wildlife, and plant resources, and the habitats upon which they depend, for their ecological values and for their use and enjoyment by the public." AB 763 provides a first step toward developing a statewide invasive plant program at DFW.
Please email a letter of support on your organization's letterhead by March 25 to Chief of Staff Susanna Schlendorf (Susanna.Schlendorf at asm.ca.gov) and mail a hard copy. Thank you!
Sample letter with instructions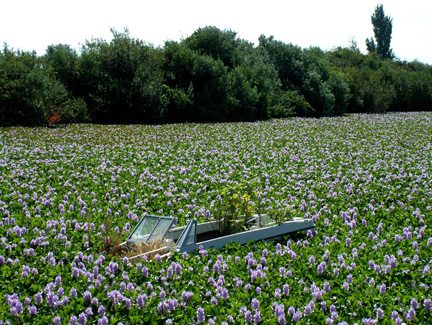 Water hyacinth (Eichhornia crassipes) in the Delta. (Photo by Bob Case)