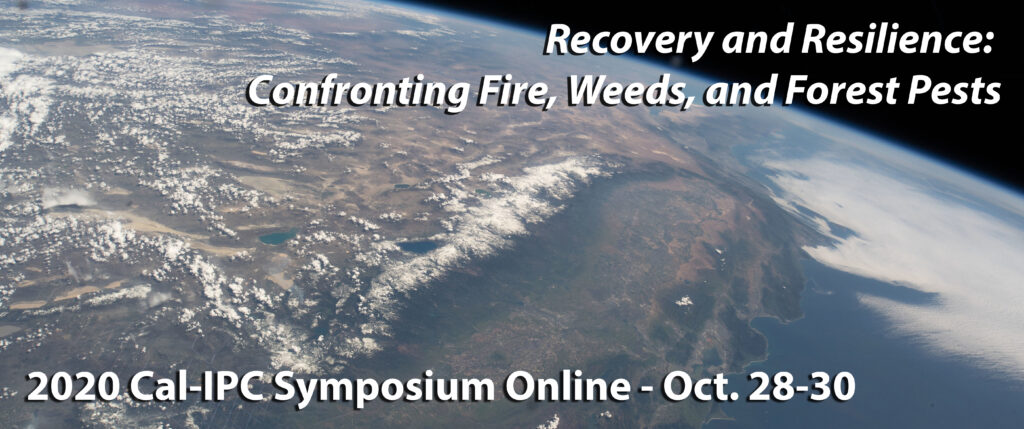 Join us for the annual Cal-IPC Symposium: online, Oct. 28-30, 2020. Registration opens soon.
Connect with colleagues from across the state – and beyond – to get the latest updates on effective tools, relevant research, and strategic management approaches.
SYMPOSIUM FEATURES:
Participate in three days of session talks, discussion groups, and posters will cover a wide range of topics related to invasive plant biology and management. More info to come soon.
SPECIAL SESSIONS:
Fire and stewardship where the Sierra, Cascades, and Central Valley meet, including Native American land management practices
Forest pests and weeds: How climate change may alter our forests forever
Progress! Invasive plant management success stories across California
ALSO FEATURING:
Statewide WMA Meeting (no cost)
Trainings – Topics being considered include: Mapping; Communications; Management Tools of the Trade; Plant Identification; Justice, Equity, Diversity, and Inclusion in the Conservation Field; Herbicides 101; and more.
Herbicide Laws and Regulations (incl. with reg.)
Early Career Networking Lunch – Students & early career professionals, sign up to learn more about careers in weed management with representatives from a variety of fields including non-profits, academia, consulting and the government.
Virtual Poster & Exhibit Session – Meet our exhibitors and join in discussion with poster presenters.
Online Auction – Final chance to bid on items to help support Cal-IPC programs.
Rates:
Rates and deadlines will be posted when registration opens soon.
Registration includes: Laws & Regs session and all sessions Wed. & Thurs.
---
Return to the Symposium Landing Page