Today is the LAST DAY for advanced registration! After Oct 31, please register at the door. We look forward to seeing you in Monterey.
Cal-IPC Members receive discounted registration. If you are not a current Cal-IPC Member, you can still receive the discounted rate by joining or renewing before completing the registration process.
REGISTER NOW
Wed., Nov 7: Training Sessions (Optional)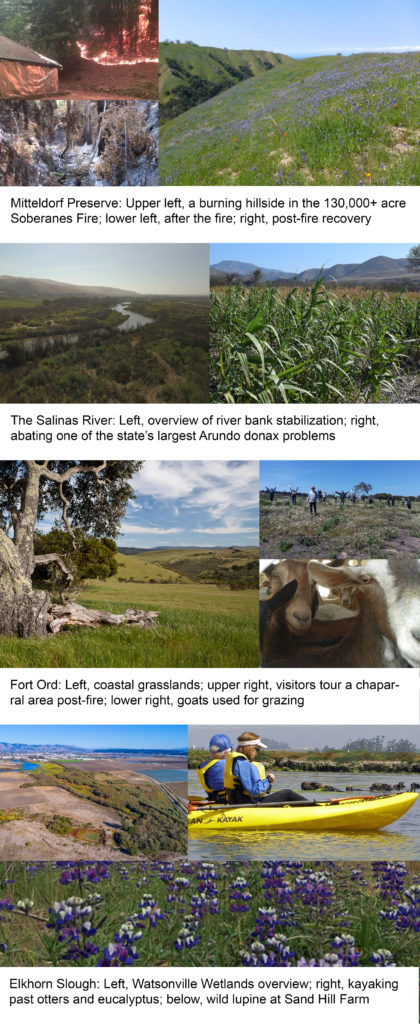 1-5pm ($50 Members/$75 Non-Members)
Invasive Plant Management 101 (3 DPR credits)
Calflora's Weed Manager (2.5 DPR credits)
Best Management Practices for Controlling Phytophthora in Restoration (2 DPR credits)
6-8pm: DPR Laws & Regs (2 DPR credits)
Thurs. & Fri., Nov 8-9: Main Conference
With lightning talks, an overview of invasive plant management in the Monterey Bay region, and special guest speaker Greg Haubrich, Noxious Weed Coordinator, Washington Dept. of Agriculture. (Thursday sessions: 4 DPR credits, Friday sessions: 4.5 DPR credits) Sessions to include:
Revival of Weed Management Areas
Coastal management efforts
Fire ecology and post-fire recovery
Restoration approaches
Prioritization, mapping, and management
Outreach & communications
Aquatic weed management
Biocontrols
Equity, diversity, and inclusion in land management
Non-plant invasive species
Addressing Phytophthora in restoration
Research on invasive plant biology and management
Regional planning and funding
Sat., Nov 10: Field Trips – All field trips are closed. Thank you!
Explore invasive plant management efforts in the region (prices vary)
From char to verdant: Visit the Mitteldorf Preserve, which was completely burned during the 130,000+ acre Soberanes Fire. We will discuss our observations based on our second year of vegetation monitoring, and discuss our efforts to curtail invasive plant invasions. (Half day, $30; 2 DPR credits) (CLOSED – AT CAPACITY)
Righting the upside-down river: Visit a cutting-edge partnership between RCD Monterey County, TNC, large agricultural operations, and government agencies to restore the Salinas River and abate one of the state's largest Arundo donax problems. This is a rare opportunity to visit private lands and explore the unique ecosystem of the Salinas River. (Half day, $30; 4 DPR credits) (CLOSED – AT CAPACITY)
From bombs to biodiversity: Visit Fort Ord National Monument to learn about 20 years of invasive weeds, habitat restoration, coastal grassland grazing and maritime chaparral fire ecology. (Full day, $50; 6 DPR credits) (CLOSED – AT CAPACITY)
Salt water to fresh water and everything in between: Visit the beautiful and biologically rich wetlands of Monterey Bay. We will kayak in Elkhorn Slough and visit with Watsonville Wetlands Watch, spending the day learning about programs to protect and restore coastal wetland and upland habitats. (Full day, $75 covers cost of kayak; 6.5 DPR credits) (CLOSED – AT CAPACITY)
2018 Pricing Information
Dates: Last day for early-bird pricing is Sept. 15. Last day for regular pricing is Oct. 31. After that, please register at the door.
Member: $325 early bird / $350 regular / $370 late
Non-Member: $375 early bird / $400 regular / $420 late
Student: $50 early bird / $65 regular / $80 late (in degree program or up to 1 year post graduation. Student travel awards have now closed and all recipients have been notified.)
Symposium Volunteer: $220 (5 hours of help at the event; limited spots available, must be approved by Cal-IPC staff)
Presenter discount rate: $300 early bird / $325 regular / $345 late (one person per paper or poster)
---
Return to the Symposium Landing Page