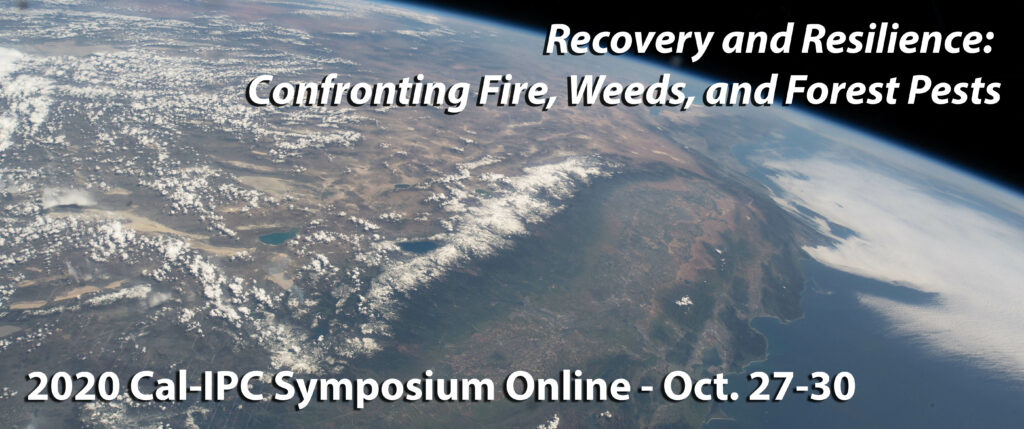 Join us for the annual Cal-IPC Symposium: online, Oct. 27-30, 2020. Registration deadline: Oct. 26, 5 pm.
Connect with colleagues from across the state – and beyond – to get the latest updates on effective tools, relevant research, and strategic management approaches. We will open the event app two weeks early to attendees, to start checking out the platform and connecting with attendees and exhibiting sponsors. Register early and don't miss out!
SYMPOSIUM FEATURES:
Participate in session talks, discussion groups, and posters covering a wide range of topics related to invasive plant biology and management. Our online format will include opportunities to chat with sponsors/exhibitors, engage during discussion groups, talk to poster presenters, and create video meetups with friends and colleagues.
SPECIAL SESSIONS:
Keynote: Dan Simberloff on "Invasive Species Denialism and the Future of Invasion Management"
Fire, Weeds, and Forest Pests
The Future of Invasive Plant Management is Landscape-scale and Collaborative
Innovations in Tracking Invasive Plants
ALSO FEATURING:
Statewide WMA Meeting – Join representatives from California's Weed Management Areas (WMAs) to learn about securing grants, designing projects, researching plants, selecting tools, reporting finds, acquiring permits, and engaging communities.
Herbicide Laws & Regulations – Session designed to provide 2 hours DPR credit
Early Career Panel – Students and early-career professionals, learn more about careers in weed management with representatives from non-profits, academia, consulting firms, and government agencies.
Virtual Poster Session – Join in discussion with poster presenters.
Online Exhibitor Gallery – Connect with sponsors and exhibitors.
Online Auction – Bid on items to help support Cal-IPC programs.
SPECIAL SPEAKER:
Dr. Daniel Simberloff is the Gore Hunger Professor of Environmental Studies at the University of Tennessee and a leading voice for invasion biology worldwide. Along with some 500 publications on ecology, biogeography, evolution, and conservation biology he is Editor-in-Chief of the journal Biological Invasions and author of the book Invasive Species: What Everyone Needs to Know.
Rates: Registration deadline Oct. 26, 5 pm.
Member: $100 regular
Non-Member: $125 regular
Student Member: $40 regular
Student Non-Member:  $55 regular
Presenter: $40 regular
Student Presenter:  $15 regular
*DPR continuing education credits: add $50
Discount for attending SERCAL or CNGA: $25 (Discount code required)
REGISTER NOW with Partner Discount
Trouble with the form? Prefer to pay by check? Please download the Symposium Registration Form as PDF.
We are offering scholarships for up to twenty entry or mid-level conservation professionals from underrepresented backgrounds to participate in the 2020 Cal-IPC Symposium. The scholarship will cover 100% of registration fees and make attendance free to awardees. Deadline Sept. 30.
Return policy: Please purchase carefully. No refunds.
*DPR Credits: We have submitted our requests to DPR to secure counts for CE credits. We will make sure to update this page with DPR credits as soon as we have a confirmed count. Typically, in past years, we have been able to provide the following:
DPR Laws & Regs: 2 Credits
Main conference days: 4 – 4.5 Credits per day
---
Return to the Symposium Landing Page