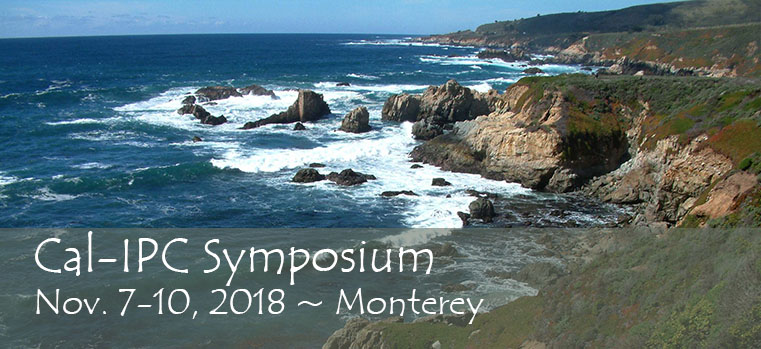 Join us at the 2018 Cal-IPC Symposium in Monterey.
We look forward to another great opportunity to network, share, and learn. Updates and opportunities to submit abstracts will be posted soon.
Thank you for joining us at the 2017 Cal-IPC Symposium! 
Land managers, researchers, and conservationists gathered to share the latest in invasive plant biology and management.
View 2017 Program and Abstracts
View 2017 Symposium presentations .
Attendees enjoyed three days of talks, posters, trainings, discussion groups and field trips on projects addressing invasive plants from riparian, grassland, mountain, coastal, and aquatic/wetland habitats. We shared information about effective tools, relevant research, non-chemical management approaches as well as the latest on herbicides. Our theme was "Working Across Boundaries," and we organized special sessions on the importance of engaging diverse communities and the roles botanic gardens can play in addressing invasive plants.
Tuesday featured two trainings during the day and the DPR Laws & Regulations session in the evening. The main conference sessions took place all day Wednesday and Thursday, with our awards banquet Wednesday night. Field trips on Friday showed off informative invasive plant management efforts in the region.
Congratulations to our 2017 Award Winners! Your hard work – in the field, behind the scenes, or gathering community to action – has made a difference in our state. Thanks for everything you do.
Looking for more content? See our Symposium Archive for presentations and proceedings for previous Symposia back to 1995.