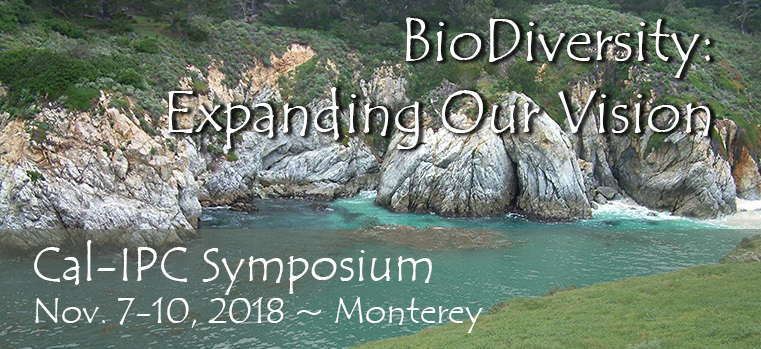 Join us at the 2018 Cal-IPC Symposium in Monterey.
The Call for Abstracts is now open – submissions due June 1.
Land managers, researchers, and conservationists will gather for the 27th annual Cal-IPC Symposium in Monterey! Join us on the coast at the Monterey Hyatt Regency. Nestled within 22 acres of soaring Monterey Pines along the Central California Coast, the hotel has close proximity to downtown Monterey, the Monterey Airport, and the Peninsula's most well-known attractions.
Stewarding biological diversity is inherent in Cal-IPC's mission. Protecting cultural and intellectual diversity is important to our success as well. The 2018 Cal-IPC Symposium explores the ways our work spans these areas, with the theme "BioDiversity: Expanding Our Vision."
We'll have the latest in invasive plant biology and management, with talks, posters, trainings, discussion groups, and field trips on projects addressing invasive plants from riparian, grassland, mountain, coastal, and aquatic/wetland habitats. Attendees will share information about effective tools, relevant research, non-chemical management approaches as well as the latest on herbicides. Our theme is BioDiversity: Expanding Our Vision. Special sessions will cover: Revival of Weed Management Areas, Economic impact of invasive plants, Arundo control projects, Coastal management efforts, Aquatic weeds, Diversity and inclusion in land management, Other invasive species (such as nutria, water snakes, and shot hole borers), Fire ecology and post-fire recovery, Grasslands management, Restoration approaches, Aerial mapping and management, Outreach and communication, and much more.
Wednesday features training sessions, including Invasive Plant Management 101, Calflora's Weed Manager, and Best Management Practices for Controlling Phytophthora in Restoration. The main conference sessions take place all day Thursday and Friday. Field trips on Saturday explore invasive plant management efforts in the region.
Come exchange knowledge with the amazing network of land stewards in California! We look forward to another great opportunity to network, share, and learn.
Registration is not yet available for 2018. Please check back for updates soon.
Sponsor the Symposium, and connect to California's natural resource management community. Sponsors receive recognition throughout the event, including a dedicated exhibit and poster session to engage with attendees.
The Call for Abstracts is now open! All entries due by June 1. Share you work with California stewardship colleagues.
We are staying at the beautiful Monterey Hyatt Regency. Check out our lodging & travel page for information on the hotel, travel to/from, and connection to the Ride & Room share bulletin.
View award winners from previous Symposia and celebrate their success.
Looking forward to the silent auction & raffle at this year's Symposium? So are we! The donation form will be updated and posted soon.
The Annual Photo Contest is a great way to share your field work, and helps Cal-IPC tell the story of invasive plants and weed management. Check this site soon to participate in the 2018 contest.
Looking for more content? See our Symposium Archive for presentations and proceedings for previous Symposia back to 1995.
---
Thank you for joining us at the 2017 Cal-IPC Symposium! 
Land managers, researchers, and conservationists gathered to share the latest in invasive plant biology and management. Our theme was "Working Across Boundaries."
View 2017 Program and Abstracts
View 2017 Symposium presentations .
Congratulations to our 2017 Award Winners! Thanks for everything you do.