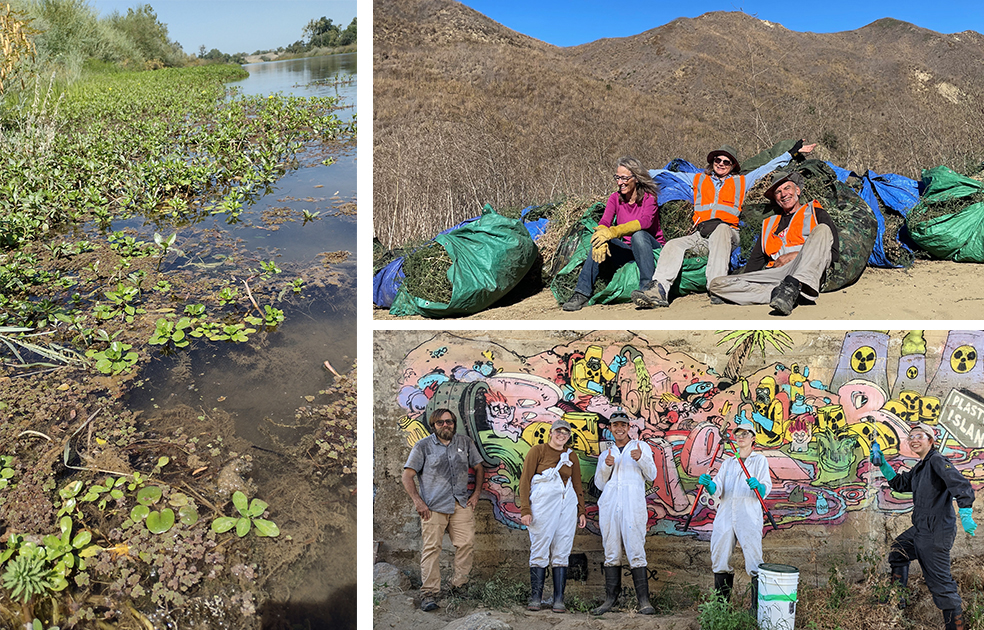 Congratulations to our 2022 Photo Contest Winners!
First Place Winner (left)
"High five: This picture features five Cal-IPC high rated invasive plants. Can you find them all?" Robin Carter-Ervin, CA Department of Water Resources, Oroville Field Division
Second Place Winner (top right)
"WHIP tackling Putin's Thistle at Harmon Canyon! Ventura Land Trust's all volunteer Wildlife Habitat Improvement Program" Teresa Burgess, Ventura Land Trust, WHIP
Third Place Winner (bottom right)
"No weeds on Plastic Island" David Vigil, Solano RCD
Take pictures now and join the 2023 Photo Contest, opening July 14.
Cal-IPC's outreach, education, and fundraising efforts rely heavily on photos to show the story of weed work in California. We love seeing how our colleagues work hard across the state to protect our natural environment from invasive plants. Without the great pictures you share, our message would be much harder to convey.
Anyone can enter! Your photos may be used in future Cal-IPC outreach materials such as our website, brochures, or reports (with photographer credit, of course).
Entries will be displayed at the Cal-IPC Symposium in October and symposium attendees will vote for their favorite photo.
Contest guidelines and key info
Maximum number of entries: 8 per individual.
All submissions must be submitted using the contest online entry form (which will be added to this page on July 14).
Photographs must be in digital format: JPEG or TIFF format only.
Only online entries will be eligible. No print or film submissions will be accepted.
The photograph need not be taken with a digital camera; scans of negatives, transparencies, or photographic prints are acceptable.
Do not include watermarks (to avoid voter bias).
The photos don't have to be taken this year – dig through your archives!
Digital files must be high resolution, 300 dpi, file size 3 MB or larger (at close to actual size).
All entries must be received by midnight PST on the deadline date, September 15.
Voting will be encouraged during the Symposium, winners announced on final day. You do not need to be present at the Symposium to get your prize, but it helps!
Images we use most often: Weed workers in action; Before and After restoration photos; Invaded landscapes. Humorous captions encouraged!
By submitting your photos to the contest, you grant permission for Cal-IPC to use your images and all persons pictured for future marketing and outreach materials, including reports, manuals, brochures, or fundraising asks. We will make every effort to credit the photographer and include image information, as space allows.
Questions? Contact us at symposium@cal-ipc.org.
---
Return to the Symposium Landing Page