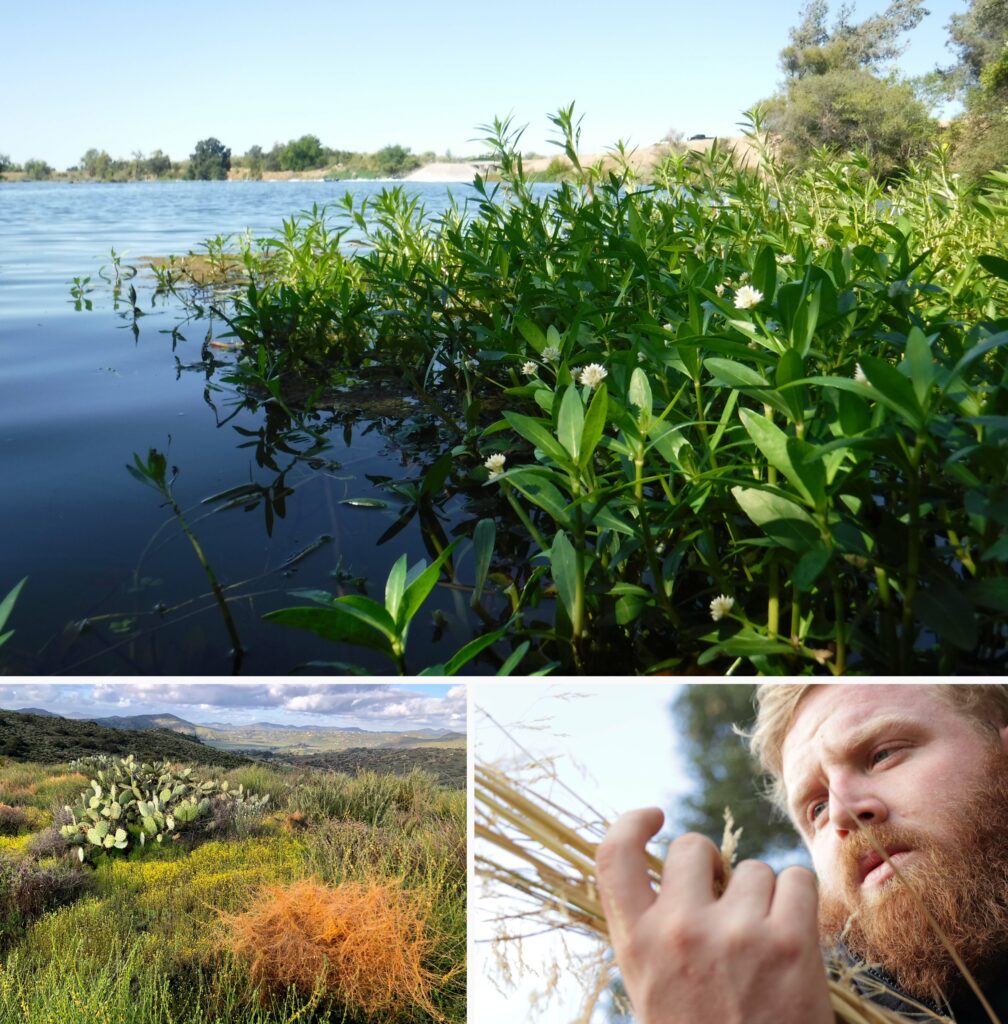 Congratulations to the winners of the 2020 Cal-IPC Photo Contest!
1st Place (top): "Feather River Alligator Weed," by Kevin Moncrief (submitted by Robin Carter-Evin)
2nd Place (bottom left): "Have you seen my dodder? She's a redhead?" by Emily Burson.
3rd Place (bottom right): "Pulling smilo grass, not smiling," by Gabriel Valbuena (submitted by Richard Rachman) –  Quote from the subject: My boyfriend took me out to take photos of us, and I snuck away to pull out smilo grass. Our compromise was him filming me doing such. I'm a graduate student at Cal State Northridge studying die-off Quercus agrifolia and Q. lobata using high resolution imagery and LiDAR."
Join us this year! Take pictures now for the 2021 Cal-IPC Photo Contest
Cal-IPC's outreach and education efforts rely heavily on photos to show the devastating impacts weeds have on our natural communities. Without the great pictures our members share with us, our message would be much harder to convey.
Anyone can enter! Your photos may be used in future Cal-IPC outreach materials such as our website, brochures, or reports (with photographer credit, of course).
Contest Entry
Contest opens July 15th and closes September 15. Once the contest opens, an entry form will be added to this page.
Don't do online contests? You may email your photos to Claire Meyler – Please be sure to include the following for every submission, and we'll upload them for you:
Photographer's first and last name (if different from the person sending in the photos)
Email address
Contest category: (Choose one) Invasive Landscapes, Specimen, Impacts, Before/After, Weed Workers, Humor
Description of Photo
Organization
Invasive species featured
Photo location
Contest guidelines
Photos should be in JPEG or TIFF format and at least 300 dpi. Larger file sizes means prettier pictures! Submissions are limited to 6 per photographer.
Not able to get into the field due to COVID restrictions? Go ahead and submit photos from your archives!
To avoid voter bias, please do not include watermarks on your photo submissions.
Photos will be judged by our online community and by attendees at the 2021 Cal-IPC Symposium. Winners (1st, 2nd, and 3rd place only) will be announced on the final day of the Symposium, October 29.
---
Return to the Symposium Landing Page