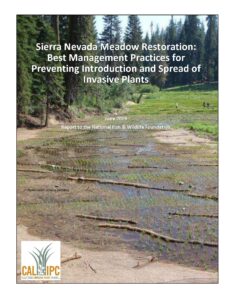 This 12-page, easy-to-use guide describes best management practices to prevent weed and pathogen spread while conducting restorations in Sierra Nevada Meadows. We provide guidelines for practitioners that span restoration activities from initial planning to the final clean-up and long-term maintenance phases of restoration. It also includes threat minimization measures for techniques that range from grazing or other fuels management to large-scale stream channel re-contouring projects.
This manual is available as a free download. Click here for Prevention BMPs for Sierra Nevada Meadow Restoration.
Acknowledgements
This report was funded by a grant to Cal-IPC from the National Fish and Wildlife Foundation.
Citation
Cal-IPC. 2019. Sierra Nevada Meadow Restoration: Best Management Practices for Preventing Introduction and Spread of Invasive Plants. Report to the National Fish and Wildlife Foundations. 12 pp.
For more information, contact Cal-IPC.