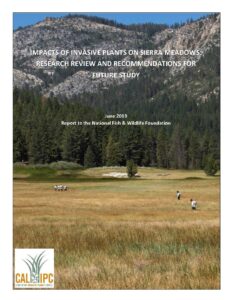 This report provides both a review of research on the effects of non-native plants on native mountain meadow systems and a proposed experimental design for evaluating species-specific effects on meadow systems. The focus of both the review and the research plan is on impacts to three key vulnerabilities in mountain meadows: soil water budgets, greenhouse gas emissions and sequestration, plant communities, biodiversity, and wildlife.
Download the Report
This is available as a free download. Click here for a PDF of for Sierra Meadows Research Review and Study Recommendations. (46 pp, 1 MB)
Acknowledgments:
J. Baccei, A. Demetry, G. Dickman, J.L. Funk, V. Matzek, and E. Wolf provided critical feedback to various stages of this report.
This report was funded by a grant to Cal-IPC from the National Fish and Wildlife Foundation.
Citation
Cal-IPC. 2019. Impacts of Invasive Plants on Sierra Meadows: Research Review and Recommendations for Future Study. Report to the National Fish and Wildlife Foundations. 46 pp.