Bromus tectorum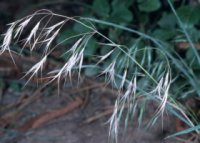 Common names: cheatgrass; downy brome
Bromus tectorum (downy brome, cheatgrass) is an annual grass (family Poaceae). It is the dominant grass on sagebrush (Artemisia species) rangelands on the Modoc Plateau in northeastern California and along the eastern Sierra Nevada to Owens Valley. This weed overcrowds native grasslands and croplands. Replacement of native grasses by cheatgrass increases the frequency and extent of wildfires.
Cal-IPC Rating:
High
Cal-IPC Assessment
Plant Assessment Form - Information gathered by Cal-IPC on the impacts, rate of spread, and distribution of invasive plants in California. Does not include management information.
Weed RIC Management Notes
Management Notes - Information on management techniques and effectiveness from the University of California Cooperative Extension's Weed Research & Information Center.
Cal-IPC Newsletter Articles
Cal-IPC Symposium Presentations
Presentations are linked where available. Where a presentation is not available, find more information by reading the abstract in the Cal-IPC Symposia Archive.
Other
Bromus tectorum

Information