Cynara cardunculus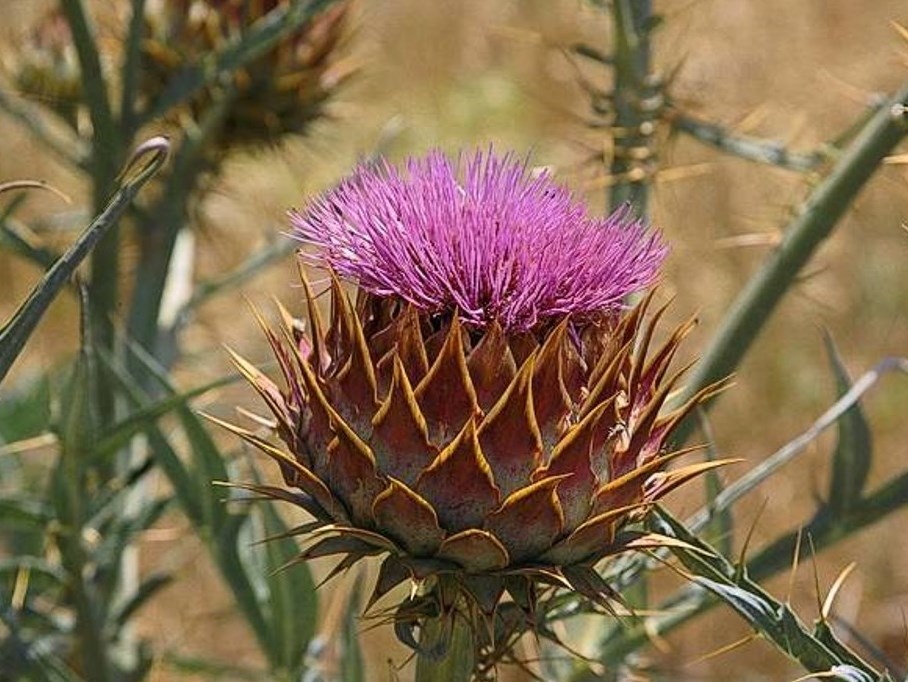 Common names: artichoke thistle; cardoon; wild artichoke
Cynara cardunculus (artichoke thistle) is a large perennial thistle (family Asteraceae) found below 500 m elevations throughout California, except in the Great Basin and Desert Regions. Artichoke thistle prefers disturbed open sites, including grassland, chaparral, coastal scrub, and riparian areas. This thistle is closely related to cultivated artichokes (Cynara scolymus), and the two species hybridize frequently. Artichoke thistle is also sometimes grown as an ornamental plant, and is available commercially. It reproduces by seed and sometimes by resprouting from root fragments. When attempting control by mechanical removal, most of the plant's large taproot must be removed to avoid resprouting.
Cal-IPC Rating:
Moderate
?
CDFA Rating: -*?
Assessment(s)
Plant Assessment Form - Information gathered by Cal-IPC on the impacts, rate of spread, and distribution of invasive plants in California. Does not include management information.
Species ID Card
Invasive Species ID Card - To support field identification of early detection species, Cal-IPC has designed a set of Species ID cards that can be downloaded, printed double-sided, and trimmed to size.
Weed Management Notes
Management Notes - Information on management techniques and effectiveness from the University of California Cooperative Extension's Weed Research & Information Center.
Cal-IPC Newsletter Articles
Cal-IPC Symposium Presentations
Presentations are linked where available. Where a presentation is not available, find more information by reading the abstract in the Cal-IPC Symposia Archive.
Evolution of an invasive plant control program – adoption of early detection and rapid response. Mitrovich, Milan (2018)
Effects of an exotic herbaceous perennial, Cynara cardunculus, on small mammals and songbirds. DeSimone, Sandra A.; Gibson, Scott E. (2010)
Artichoke thistle (Cynara cardunculus) control efforts and community recovery in historic southern California rangeland. Royall, Margaret; Murdock, Michelle; Suding, Katharine; Smith, Trish (2007)
Non-chemical Exotic Control in Coastal Sage Scrub Restoration at an Audubon Preserve. DeSimone, Sandra (2007)
Ecological approaches for weed management. Holt, Jodie S. (2006)
Forbs working group. Pirosko, Carri; Schoenig, Steve (2004)
Patterns of seedling establishment in artichoke thistle, Cynara cardunculus. Marushia, Robin; Holt, Jodie S. (2003)
Prediction of Cynara cardunculus seedling development using a degree-day approach. White, Virginia A.; Holt, Jodie S. (2003)
Effect of competition on artichoke thistle, Cynara cardunculus. White, Virginia A.; Holt, Jodie S. (2002)
Using Transline* herbicide to control invasive plants. Carrithers, Vanelle F. (1997)
Controlling Cynara cardunculus (artichoke thistle, cardoon, etc.). Kelly, Mile; Pepper, Alan (1996)
An artichoke thistle success story. Tidwell, Bill (1994)
Other
Cynara cardunculus

Information