Most of the materials listed below are available for purchase from Cal-IPC. In addition, many of them are available online as pdf documents.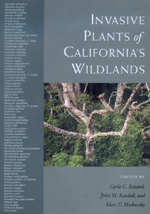 Publications include: reports, books and brochures. Publications can be ordered online, or use our printable order form.
The quarterly Cal-IPC News has the latest news on control methods, policy, and projects. All past issues of Cal-IPC News are available for download as printable PDF files.
California WeedTalk provides a forum for discussion of invasive plant issues in California. This email discussion list serves to facilitate information sharing about invasive plants that damage the state's ecosystems as well as job announcements and information on events and resources.
Subscribe to CalWeedTalk
Subscribe using the form below or at http://www.simplelists.com/subscribe/calweedtalk. You will receive a message asking you to confirm your email address in order to activate the subscription. If you have any problems, contact info@cal-ipc.org.
Here's a list of related plant sites, government organizations, and invasive species non-profits.