Erodium cicutarium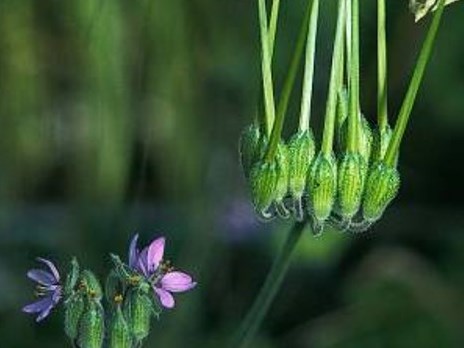 Common names: redstem filaree; redstem stork's bill; filaree
Erodium cicutarium (redstem filaree) is an aggressive annual/biannual (family Geraniaceae) that is very widespread throughout California and is commonly found along roadsides, grasslands, fields, and semi-desert areas. It often carpets large areas, out-competing native grasses and forbs.
Cal-IPC Rating:
Limited
?
CDFA Rating: None?
Assessment(s)
Plant Assessment Form - Information gathered by Cal-IPC on the impacts, rate of spread, and distribution of invasive plants in California. Does not include management information.
Weed Management Notes
Management Notes - Information on management techniques and effectiveness from the University of California Cooperative Extension's Weed Research & Information Center.
Cal-IPC Newsletter Articles
Cal-IPC Symposium Presentations
Presentations are linked where available. Where a presentation is not available, find more information by reading the abstract in the Cal-IPC Symposia Archive.
Using selective herbicides to control invasive annual grasses. Echols, Aaron (2022)
A tale of two wildfires: post-fire weed management at Pepperwood Preserve. Friedfel, Devyn; Halbur, Michelle; Gillogly, Michael; Barringer, Sonja; Comendant, Tosha (2020)
Herbicide treatment of an invaded grassland following a prescribed fire. Bell, Michael D.; Dickens, Sara Jo; Schneider, Heather; Palenscar, Kai; Sweet., Lynn (2010)
Evening the odds: Evaluating the combined effects of nitrogen fertilization and exotic annual removal on native annual forbs in the Colorado Desert. Schneider, Heather; Allen, Edith (2009)
California's fading wildflower legacy. Minnich, Richard A. (2004)
Exotic plants in the Sonoran desert region, Arizona and Sonora. Devender, Thomas R. Van; Frlger, Richard S.; M., Alberto Burquez (1997)
Effects of exotic plants on three California ecosystems. Minnich, Richard A. (1994)
The effects of fire on introduced annual grasses. Wills, Robin (1993)
Other
Erodium cicutarium

Information