Centaurea stoebe ssp. micranthos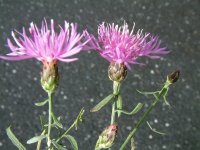 Synonyms: Centaurea maculosa; Centaurea biebersteinii, Centaurea stoebe ssp. stoebe and ssp. maculosa
Common names: spotted knapweed
Centaurea maculosa (spotted knapweed) is a biennial to short-lived perennial (family Asteraceae). It can be found in disturbed open sites, grasslands, overgrazed rangelands, roadsides and logged areas. It crowds out native species and forage for livestock, and can invade undisturbed native bunchgrass stands. An individual plant may produce as many as 40,000 seeds.
Jepson Manual, 2nd Edition: Centaurea stoebe subsp. micranthos
Cal-IPC Rating:
High
Cal-IPC Assessment
Plant Assessment Form - Information gathered by Cal-IPC on the impacts, rate of spread, and distribution of invasive plants in California. Does not include management information.
Weed RIC Management Notes
Management Notes - Information on management techniques and effectiveness from the University of California Cooperative Extension's Weed Research & Information Center.
Cal-IPC Newsletter Articles
Cal-IPC Symposium Presentations
Presentations are linked where available. Where a presentation is not available, find more information by reading the abstract in the Cal-IPC Symposia Archive.
There are no Symposium presentations associated with this species yet.
Other
Centaurea stoebe ssp. micranthos

Information