Carpobrotus edulis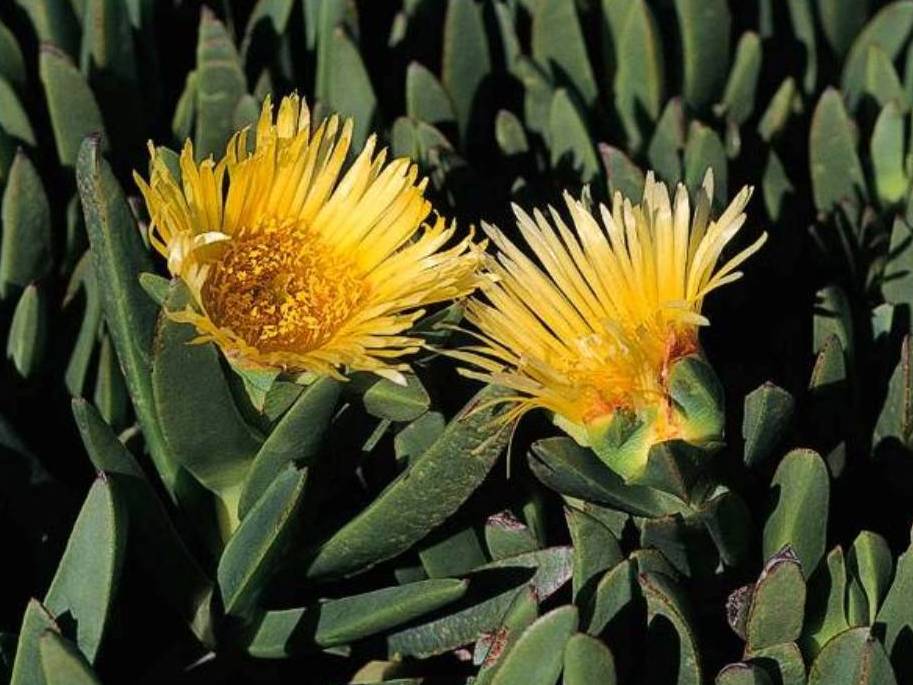 Common names: highway iceplant
Carpobrotus edulis (Hottentot-fig or iceplant) is a succulent shrub (family Aizoaceae) found throughout coastal California and the Channel Islands, especially in areas with a warm winter climate. Introduced as an ornamental plant, Carpobrotus edulis now inhabits coastal scrub, grasslands, chaparral, bluffs, dunes and beaches where it creates dense mats that increase soil organic matter over time, allowing new non-native species to invade. Carpobrotus edulis propagates by seed and vegetatively. Even small stem fragments can regenerate into a new plant, making control difficult.
Cal-IPC Rating:
High
?
CDFA Rating: None?
Assessment(s)
Plant Assessment Form - Information gathered by Cal-IPC on the impacts, rate of spread, and distribution of invasive plants in California. Does not include management information.
Weed Management Notes
Management Notes - Information on management techniques and effectiveness from the University of California Cooperative Extension's Weed Research & Information Center.
Cal-IPC Newsletter Articles
Cal-IPC Symposium Presentations
Presentations are linked where available. Where a presentation is not available, find more information by reading the abstract in the Cal-IPC Symposia Archive.
Other
Carpobrotus edulis

Information