Tribulus terrestris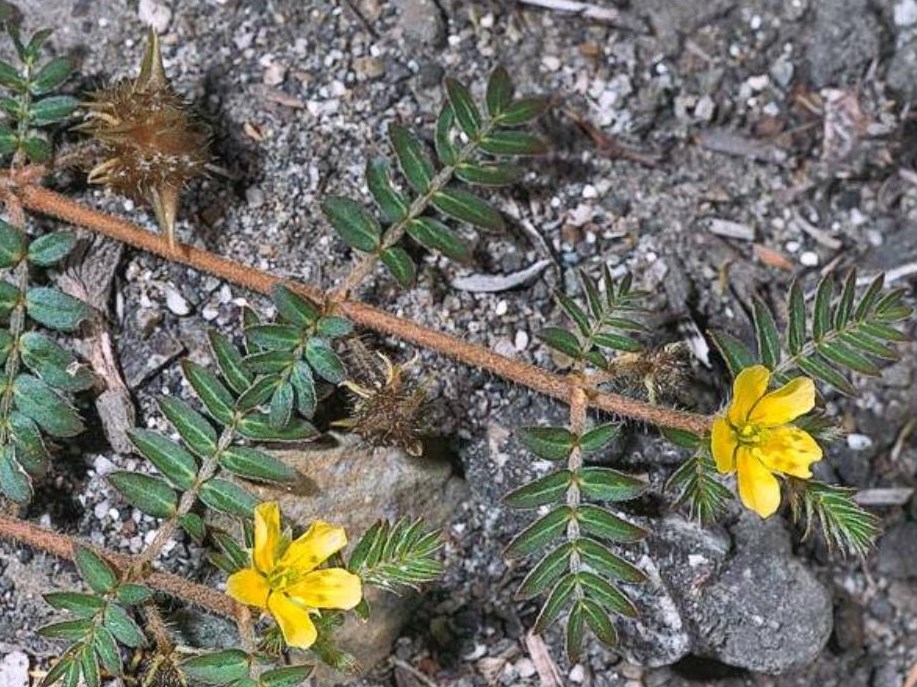 Synonyms: Tribulus bimucronatus; Tribulus lanuginosus; Tribulus saharae; Tribulus terrestris var. sericeus
Common names: puncture vine; puncturevine, goat's head
Tribulus terrestris (puncture vine) is an annual herb (family Zygophyllaceae) with yellow-white flowers and narrow hairy leaves found all over California. It is native to the Mediterranean. It favors grasslands and dunes. It propagates by seed. Seeds are dispersed via water, wool, vehicles and agricultural activities.
Cal-IPC Rating:
Limited
Cal-IPC Assessment
Plant Assessment Form - Information gathered by Cal-IPC on the impacts, rate of spread, and distribution of invasive plants in California. Does not include management information.
Cal-IPC Newsletter Articles
Is it just me, or is puncturevine everywhere this year? . Gibson, Jennifer.

Vol 23, Issue 3

Weed biological control agents approved for California. Pitcairn, Michael J.; Smith, Lincoln; Moran, Patrick.

Vol 22, Issue 1

Feed the birds, but don't spread weeds. America, Weed Science Society of.

Vol 17, Issue 2
Cal-IPC Symposium Presentations
None for this species.
Other
Tribulus terrestris

Information
CalFlora - Distribution information based on submitted observations and herbarium specimens.