Spartina densiflora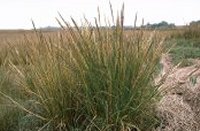 Common names: dense-flowered cordgrass; Chilean cordgrass.
Spartina densiflora (dense-flowered cordgrass) is a rhizomatous perennial grass (family Poaceae) found in salt marshes in Humboldt Bay and San Francisco Bay. Dense-flowered cordgrass may have been introduced to Humboldt Bay from Chile by lumber ships in the 19th century. It tolerates high salinity and grows especially well in higher tidal marsh, where it is known to displace native pickleweed (Salicornia pacifica) and native California cordgrass (Spartina foliosa). The species' abundant seed has the potential to disperse over long distances by floating on water.
Rating:
High
Cal-IPC Resources
Other Resources
Symposium Presentations
None for this species.
Cal-IPC News Articles