Phytolacca americana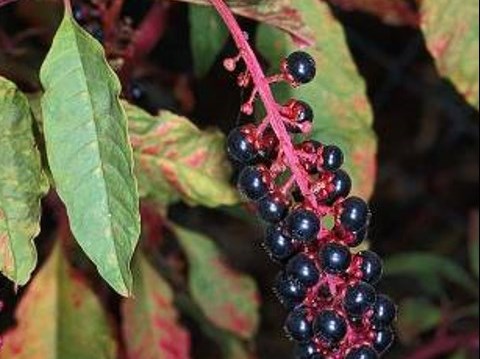 Synonyms: Phytolacca decandra L. in part.
Common names: common pokeweed; American cancer; American pokeweed; cancer jalap; coakum; garget; inkberry; pigeonberry; poke; poke sallet; pokeberry; pokeweed; red-ink plant; redweed; scoke; Virgina poke
Phytolacca americana (common pokeweed) is a tall perennial forb/herb (family Scrophulariaceae) that invades disturbed sites throughout most of California except the Great Basin and deserts. In the Southern U.S., specially prepared shoots and berries with the seeds removed are used in foods. However, all parts of the plant can be fatally toxic to humans and livestock.
Cal-IPC Rating:
Limited
Cal-IPC Assessment
Plant Assessment Form - Information gathered by Cal-IPC on the impacts, rate of spread, and distribution of invasive plants in California. Does not include management information.
Weed RIC Management Notes
Management Notes - Information on management techniques and effectiveness from the University of California Cooperative Extension's Weed Research & Information Center.
Cal-IPC Newsletter Articles
There are no newsletter articles associated with this species yet.
Cal-IPC Symposium Presentations
Antonio, C. D. and J. Gerlach (2003). Annual grasses: Status of biology and control. California Invasive Plant Council Symposium 2003. Kings Beach, CA.
Clines, J., J. DiTomaso, et al. (2004). Grasses working group. California Invasive Plant Council Symposium 2004. Ventura, CA.
Corbin, J. D., M. Thomsen, et al. (2004). Out of the frying pan: Invasion of exotic perennial grasses in coastal prairies. California Invasive Plant Council Symposium 2004. Ventura, CA.
Stafford, M., S. Farrell, et al. (2006). Control of Phalaris aquatica on lowland coastal terrace prairie in Richmond, CA. Cal-IPC Symposium. Rohnert Park, CA.
Thomsen, C. D., W. A. Williams, et al. (1996). Yellow starthistle management with grazing, mowing, and competitive plantings. California Exotic Pest Plant Council Symposium '96. San Diego, CA.
Other
Phytolacca americana

Information