Ludwigia peploides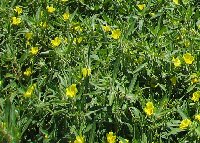 Synonyms: Jussiaea peploides
Common names: floating water primrose; California waterprimrose
Ludwigia peploides (creeping water-primrose) is a perennial aquatic plant (family Onagraceae) that forms very dense, virtually impenetrable mats which restrict fishing and boat access. It also out competes native aquatic plants. Ludwigia peploides can be found throughout California in rice fields, ditches, ponds, slow moving streams, and along edges of lakes and reservoirs. There is some confusion as to which non-native species occur in California and more than one, yet unknown, species may be invasive.
Rating:
High
Cal-IPC Resources
Other Resources
Symposium Presentations
None for this species.
Cal-IPC News Articles