Limnobium laevigatum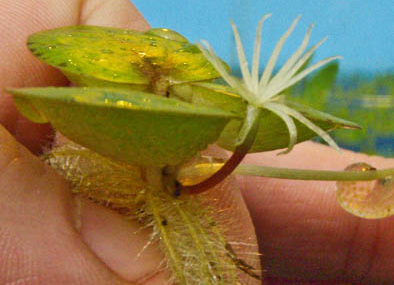 Common names: South American spongeplant; West Indian spongeplant
Limnobium laevigatum (South American spongeplant) is a perennial aquatic plant (family Hydrocharitaceae) found on the San Joaquin river and the Sacramento-San Joaquin delta. The spongplant can form thick mats across the water causing problems for boats, fish, and water infrastructure. Limbnobium laevigatum can spread rapidly through quick seed production and vegetative growth. The small, floating seeds easily disperse once produced.
Cal-IPC Rating:
High
Cal-IPC Assessment
Plant Assessment Form - Information gathered by Cal-IPC on the impacts, rate of spread, and distribution of invasive plants in California. Does not include management information.
Cal-IPC Newsletter Articles
Cal-IPC Symposium Presentations
Other
Limnobium laevigatum

Information
CalFlora - Distribution information based on submitted observations and herbarium specimens.
CalWeedMapper - Distribution information with ability to determine regional priorities.
USDA PLANTS Database - Federal database with information on identification and distribution, and links to websites in individual states.