Limnobium laevigatum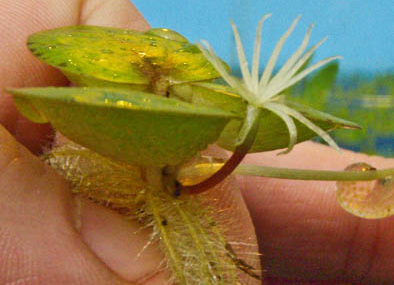 Common names: South American spongeplant; West Indian spongeplant
Limnobium laevigatum (South American spongeplant) is a perennial aquatic plant (family Hydrocharitaceae) found on the San Joaquin river and the Sacramento-San Joaquin delta. The spongplant can form thick mats across the water causing problems for boats, fish, and water infrastructure. Limbnobium laevigatum can spread rapidly through quick seed production and vegetative growth. The small, floating seeds easily disperse once produced.
Rating:
High
Cal-IPC Resources
Other Resources
"New Invader Threatens California..." - California Department of Food and Agriculture
USDA PLANTS database -
Federal database with information on identification and distribution, and links to websites in individual states.
CalFlora - Distribution information by county based on submitted observations and herbarium specimens.
Symposium Presentations
Cal-IPC News Articles
Anderson, Lars and Pat Akers (2011). Spongeplant: A new Aquatic weed threat in the Delta. Cal-IPC News. 19: 1,4
Brusati, E. (2011). Cal-IPC Inventory update adds eight plants. Cal-IPC News. 19: 18.