Hydrilla verticillata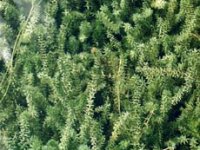 Synonyms: Hottonia serrata, Hydrilla angustifolia, Hydrilla dentata, Hydrilla lithuanica, Hydrilla ovalifolia, Hydrilla wightii, Leptanthes verticillatus, Serpicula verticillata, Vallisneria verticillata, Elodea verticillata
Common names: hydrilla; water thyme; Florida elodea
Hydrilla verticillata (hydrilla) is a perennial aquatic plant (family Hydrocharitaceae). It has been observed in the Mojave and Colorado deserts, south and central coasts, San Francisco Bay Area, and Central Valley. Currently, isolated infestations of hydrilla are found in Shasta, Yuba, Lake, Calaveras, Madera, Mariposa, and Imperial counties. Hydrilla forms large mats that fill the water column and can block or severely restrict water flow.
Cal-IPC Rating:
High
Cal-IPC Assessment
Plant Assessment Form - Information gathered by Cal-IPC on the impacts, rate of spread, and distribution of invasive plants in California. Does not include management information.
Weed RIC Management Notes
Management Notes - Information on management techniques and effectiveness from the University of California Cooperative Extension's Weed Research & Information Center.
Cal-IPC Newsletter Articles
Cal-IPC Symposium Presentations
There are no Symposium presentations associated with this species yet.
Other
Hydrilla verticillata

Information