Egeria densa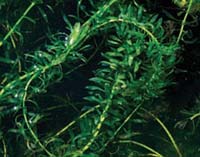 Common names: Brazilian egeria; egeria
Egeria densa (Brazilian egeria) is a common aquatic perennial (family Hydrocharitaceae) that occurs in lakes, springs, ponds, and streams. Its underwater growth significantly retards water flow and decreases reduces the abundance and diversity of native plant seeds in lake bottoms. It was introduced as a freshwater aquarium plant.
Rating:
High
Cal-IPC Resources
Other Resources
Symposium Presentations
None for this species.
Cal-IPC News Articles
Brusati, E. (2009). The cost of weeds to California. Cal-IPC News. 17: 6,7,13.