Clematis vitalba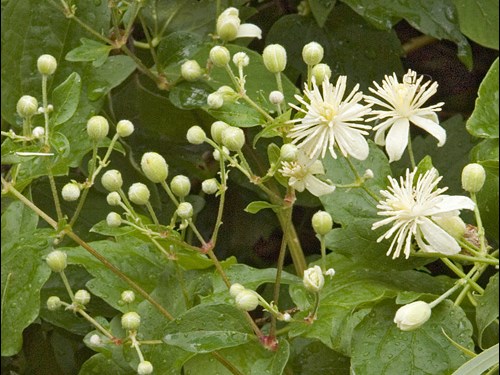 Synonyms: Anemone vitalba
Common names: old man's beard; traveler's joy
Clematis vitalba (old man's beard) is a vine (family Ranunculaceae) with white flowers and oval-shaped leaves found in the central coast ranges of California. It is native to the United Kingdom. It favors forests and woodlands. It spreads via seeds and roots. Means of dispersal include water, wind, humans and animals.
Cal-IPC Rating:
Moderate
Cal-IPC Assessment
Plant Assessment Form - Information gathered by Cal-IPC on the impacts, rate of spread, and distribution of invasive plants in California. Does not include management information.
Weed RIC Management Notes
Management Notes - Information on management techniques and effectiveness from the University of California Cooperative Extension's Weed Research & Information Center.
Cal-IPC Newsletter Articles
Cal-IPC Symposium Presentations
There are no Symposium presentations associated with this species yet.
Other
Clematis vitalba

Information