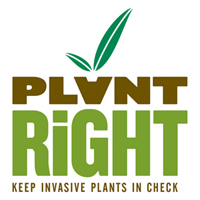 The PlantRight campaign is a project of the nonprofit organization Sustainable Conservation, and is guided by the Cal-HIP partnership. It is a diverse alliance of plant growers and retailers, environmental advocates, academics, and professional gardeners and landscapers who are working with California's nursery industry to stop the sale of invasive horticultural plants.
About 48% of the invasive plants in California were originally introduced as ornamentals through the horticultural trade (Bell et al., 2003). PlantRight aims to partner with the industry to prevent further introduction of invasive plants to California and promote safe and beautiful alternative plants to use in their place.
To learn more, visit: www.plantright.org.
How you can help:
From home gardeners to land managers to nurseries, growers, and landscape professionals, everyone has a role to play in preventing the introduction of invasive plants. A few simple steps can stop invasions before they start:
Home gardeners: Identify the garden plants that are invasive in your region by using the PlantRight invasive plant map. You can utilize this information as you choose beautiful, noninvasive plants for use in your garden or landscape. In addition, you can help spread the word among your fellow gardeners and by pleasantly sharing this information with local nursery professionals.
Horticultural professionals: This program is intended to help you sell the right plants for your region, and not to prevent your sale of plants. Please ask your business to propagate, distribute, or sell only noninvasive plants in your region of California. You can use PlantRight's list as a guide and help spread the word by sharing and using PlantRight's free educational materials. For more information on how you can partner with PlantRight, email plantright@suscon.org.
PlantRight Press
For PlantRight-related news, visit http://www.plantright.org/news.
For more information on how you can help, contact us at (510) 843-3902, or info@cal-ipc.org.