Cal-IPC's work at the federal level is primarily coordinated through National Invasive Weeds Awareness Week. Cal-IPC and other California partners work with event organizers to set national policy priorities.
National Invasive SPECIES Awareness Week (NISAW)

To celebrate its tenth year, the National Invasive Weeds Awareness Week (NIWAW) is becoming an all-taxa inclusive event and has changed its name to the National Invasive Species Awareness Week.
In 2010, NISAW will be held January 10-14 in Washington, DC. The event brings weed workers nationwide to discuss invasive plant issues with agency officials and elected representatives. For more details, see the official NISAW website.
California has sent delegations to NIWAW since 2002. Cal-IPC works with the California Invasive Weeds Awareness Coalition (CALIWAC) to coordinate these delegations, which meet with agency leaders and Congressional representatives to support important policy initiatives.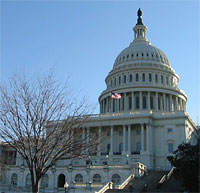 US Capitol Building
Photo courtesy Elizabeth Brusati
CALIWAC position statements for NIWAW
Federal legislation of interest
Related Links
Executive Order 13112 – Established the National Invasive Species Council in 1999.
Library of Congress – Information on federal legislation and Congressional representatives, updates on status of current bills
National Invasive Species Information Center – The federal clearinghouse for invasive species information, including laws and regulations.