Persicaria wallichii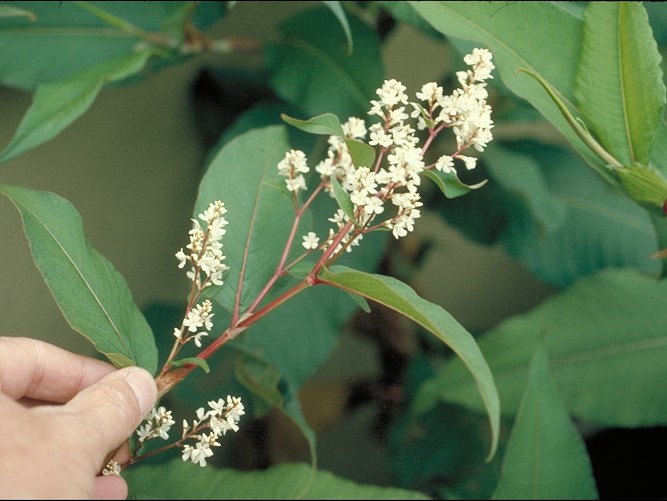 Common names: Himalayan knotweed
Persicaria wallichii (Himalayan knotweed) is a perennial herb/ (family Polygonaceae) with white flowers and narrow leaves found in the north and central coast ranges of California. It is native to south-central Asia. It favors grasslands, wetlands, bog and marsh, and riparian and bottomland habitat. It spreads via small fragments that form new plants. Means of dispersal include wind, water, animals and humans.
Cal-IPC Rating: Watch
CDFA Rating: -*?
Assessment(s)
Plant Risk Assessment

- An evaluation of the potential for a plant to be invasive in California.
Species ID Card
Invasive Species ID Card - To support field identification of early detection species, Cal-IPC has designed a set of Species ID cards that can be downloaded, printed double-sided, and trimmed to size.
Weed Management Notes
No Weed RIC Management Notes are available for this species. Check for information on other species in the genus on the Weed RIC site.
Cal-IPC Newsletter Articles
Cal-IPC Symposium Presentations
Presentations are linked where available. Where a presentation is not available, find more information by reading the abstract in the Cal-IPC Symposia Archive.
Other
Persicaria wallichii

Information
Additional photos

Persicaria wallichii (Himalayan knotweed) leaves (adaxial) and stem. Photo: Phil Pullen

Persicaria wallichii (Himalayan knotweed) leaves and stem. Photo: Phil Pullen

Persicaria wallichii (Himalayan knotweed) inflorescence. Photo: © Dean Kelch, CDFA

Persicaria wallichii (Himalayan knotweed) growth habit. Photo: © Dean Kelch, CDFA