Hirschfeldia incana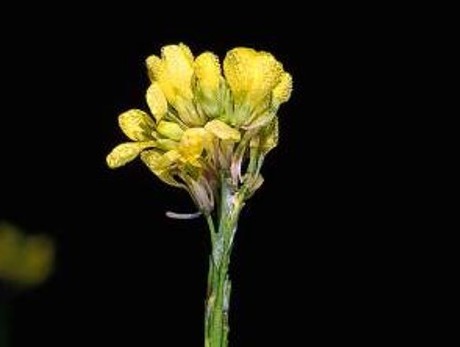 Synonyms: Brassica geniculata, Sinapsis geniculata, Sinapsis incana
Common names: short-pod mustard; Mediterranean mustard; summer mustard; Greek mustard
Hirschfeldia incana (short-pod mustard, summer mustard) is a biennial or short-lived perennial forb (family Brassicaceae) that is native to the Mediterranean. It is shorter in stature than black mustard (<40 dm) and highly branched, with soft-haired, pinnately-lobed leaves, yellow flowers, and short (<1.7 cm) seed pods that are appressed to stems. Short-pod mustard can suppress native vegetation through rapid growth and shading and flourishes in disturbed conditions and recently burned lands. It occurs on roadsides and other disturbed habitat, in shrublands, and in grasslands.
Cal-IPC Rating:
Moderate
?
CDFA Rating: None?
Assessment(s)
Plant Assessment Form - Information gathered by Cal-IPC on the impacts, rate of spread, and distribution of invasive plants in California. Does not include management information.
Weed Management Notes
Management Notes - Information on management techniques and effectiveness from the University of California Cooperative Extension's Weed Research & Information Center.
Cal-IPC Newsletter Articles
Cal-IPC Symposium Presentations
Presentations are linked where available. Where a presentation is not available, find more information by reading the abstract in the Cal-IPC Symposia Archive.
Control of invasive plants after the Scorpion Fire on Santa Cruz Island. Woolsey, Jay; Parker, Mike; Carter, Katy; Little, Annie; Cowan, Clark (2022)
The role of fire in managing invasive species at the Santa Rose Plateau Ecological Reserve. Laskey, Hailey; Principe, Zach (2022)
Mapping weeds and rare plants to inform management and conservation in the Zaca and Jesusita fires. Calloway, Stephanie; Schneider, Heather; Knapp, Denise (2018)
Evidence that plant-associated methylotrophic bacteria aid in grassland and coastal sage scrub restoration. Irvine, Irina; Witter, Marti; Brigham, Christy; Martiny, Jennifer B.H.; Suding, Katharine (2009)
Does horse manure harbor invasive plants? Quinn, Lauren; Davis, Bonnie; Kolipinski, Mietek; Ghosh, Sibdas (2006)
Blurring edges: A test of weed control methods used along edges of sage scrub patches to encourage shrub colonization into abandoned agricultural fields. Maher, Eliza; Stanton, Edward (2005)
Phenology of Brassica tournefortii in comparison to B. nigra, B. geniculata, and native Mojave Desert annuals. Marushia, Robin; Holt, Jodie (2005)
California's fading wildflower legacy. Minnich, Richard A. (2004)
The effects of fire frequency and firebreaks on the abundance and species richness of exotic plant species in coastal sage scrub. Giessow, Jason; Zedler, Paul (1996)
Effects of exotic plants on three California ecosystems. Minnich, Richard A. (1994)
Other
Hirschfeldia incana

Information