Foeniculum vulgare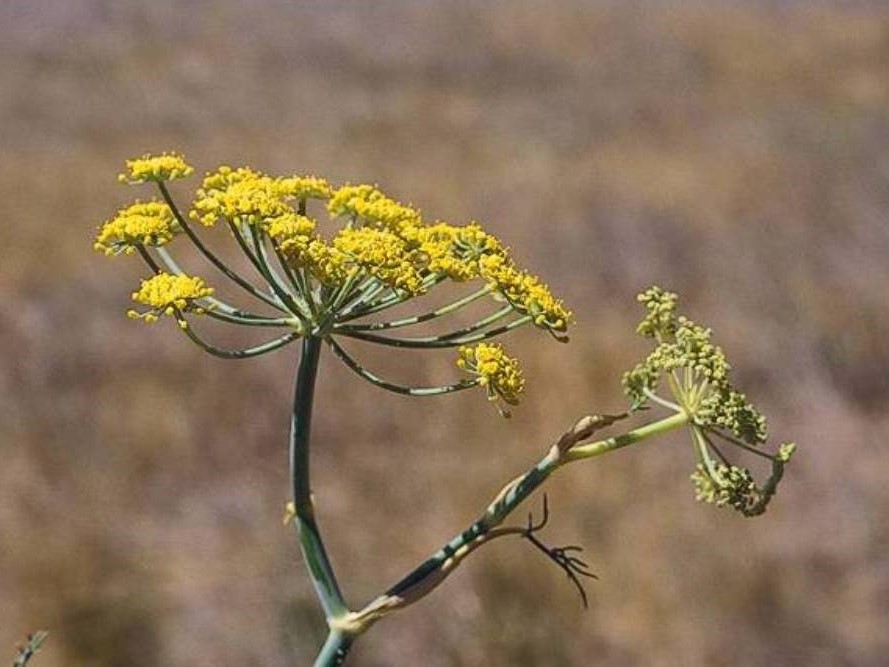 Common names: fennel; sweet fennel; sweet anise
Foeniculum vulgare (fennel) is an erect perennial herb (family Apiaceae). Although the plant is very common throughout the state, dense local populations have been reported from Santa Cruz Island, in fields around the San Francisco Bay region, Palos Verdes Peninsula (Los Angeles County), and Camp Pendleton (San Diego County). It can drastically alter the composition and structure of many plant communities, including grasslands, coastal scrub, riparian, and wetland communities. It is still unclear whether culinary varieties of fennel are invasive.
Cal-IPC Rating:
Moderate
?
CDFA Rating: None?
Assessment(s)
Plant Assessment Form - Information gathered by Cal-IPC on the impacts, rate of spread, and distribution of invasive plants in California. Does not include management information.
Species ID Card
Invasive Species ID Card - To support field identification of early detection species, Cal-IPC has designed a set of Species ID cards that can be downloaded, printed double-sided, and trimmed to size.
Weed Management Notes
Management Notes - Information on management techniques and effectiveness from the University of California Cooperative Extension's Weed Research & Information Center.
Cal-IPC Newsletter Articles
Cal-IPC Symposium Presentations
Presentations are linked where available. Where a presentation is not available, find more information by reading the abstract in the Cal-IPC Symposia Archive.
Control of invasive plants after the Scorpion Fire on Santa Cruz Island. Woolsey, Jay; Parker, Mike; Carter, Katy; Little, Annie; Cowan, Clark (2022)
A test of the herbicide Weed Slayer for the control of invasive plants. Thomas, Don (2020)
Mapping weeds and rare plants to inform management and conservation in the Zaca and Jesusita fires. Calloway, Stephanie; Schneider, Heather; Knapp, Denise (2018)
Native plant recovery in seeded and non-seeded plots following exotic fennel (Foeniculum vulgare) control on east Santa Cruz Island – ten years post treatment. Cowan, Clark (2018)
Modeling the control of invasive fennel (Foeniculum vulgare) on San Clemente Island. Havstad, Emma (2017)
Desire, disappointment, surprises, and food webs: melding conservation and ecological perspectives to better understand animal-invasive plant interactions. Klinger, Rob (2010)
Weeds and wildlife, impacts and interactions: A case study from Santa Cruz Island, California. Morrison, Scott (2010)
Assessing the effects of Foeniculum vulgare on seedling germination, soil legacy effects and restoration strategies. Liu, Heather (2009)
Evaluating the seed bank of a disturbed site to determine potential ecological restoration strategies. Olesen, Cory; Doran, Daniel; D_Antonio, Carla (2009)
Using airborne remote sensing to map sweet fennel on Santa Cruz Island (5.2). Dahlin, Kyla; Asner, Greg; Field, Chris; Shaw, Rebecca (2008)
The cost and effectiveness of small-scale fennel control methods. Gwinn, Abigail (2006)
The fennel battle on MCB Camp Pendleton: Partnerships and techniques in combating the invasion. Easley, Todd; Bieber, Deborah; Bell, Carl; Tomsovic, Pete (2005)
Partnering to prevent invasions of plants of horticultural origin. Connick, Sarah; Gerel, Mike (2004)
Use of fire to control French broom. Boyd, David (1995)
Modeling the expansion and control of fennel (Foeniculum vulgare) on the Channel Islands. Brenton, Robert K.; Klinger, Rob (1994)
Other
Foeniculum vulgare

Information