Ehrharta calycina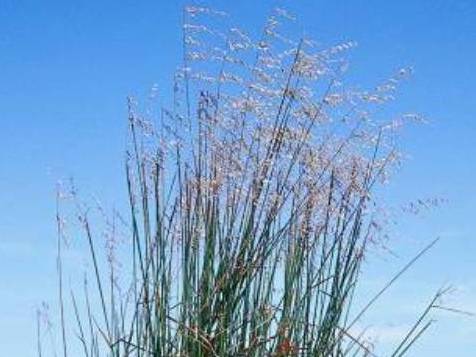 Synonyms: Aira capensis L.f., Ehrharta ascendens Schrad, E. auriculata Steud., E. geniculata (Thunb) Thunb., E. laxiflora Schrad., R. ovata Nees, E. paniculataSw.ex Poir, E. undulata Nees ex Trin., Melica festucoides Licht ex Trin., Melica geniculata Thunb., Trochera calycina (Sm. P. Beauv,)
Common names: purple veldtgrass; African veldtgrass; perennial veldt grass
Ehrharta calycina (purple veldtgrass) is a perennial grass (family Poaceae) found in disturbed grasslands, roadsides and coastal habitats in California's south and central west regions. Purple veldtgrass is spreading very rapidly in the central coast region, where it invades dunes and shrublands. It was originally imported to California for use as a pasture grass and for erosion control. Purple veldtgrass displaces native vegetation and converts coastal scrub and chaparral communities to grasslands. It resprouts after fires and may increase fire frequency.
Cal-IPC Rating:
High
?
CDFA Rating: None?
Assessment(s)
Plant Assessment Form - Information gathered by Cal-IPC on the impacts, rate of spread, and distribution of invasive plants in California. Does not include management information.
Species ID Card
Invasive Species ID Card - To support field identification of early detection species, Cal-IPC has designed a set of Species ID cards that can be downloaded, printed double-sided, and trimmed to size.
Weed Management Notes
Management Notes - Information on management techniques and effectiveness from the University of California Cooperative Extension's Weed Research & Information Center.
Cal-IPC Newsletter Articles
Cal-IPC Symposium Presentations
Presentations are linked where available. Where a presentation is not available, find more information by reading the abstract in the Cal-IPC Symposia Archive.
Other
Ehrharta calycina

Information
Additional photos

Ehrharta calycina (purple veldtgrass) florets. Photo: Ron Vanderhoff

Ehrharta calycina (purple veldtgrass) leaf base and stem. Photo: Ron Vanderhoff

Ehrharta calycina (purple veldtgrass) infestation. Photo: © 2014 Neal Kramer

Ehrharta calycina (purple veldtgrass) inflorescence. Photo: © 2014 Neal Kramer