Conium maculatum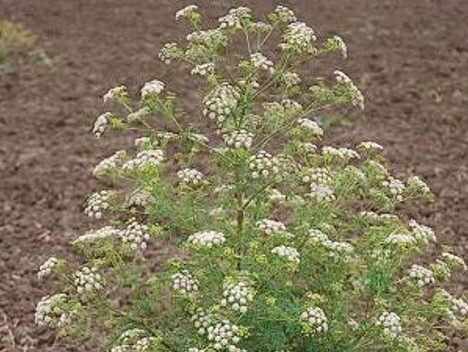 Common names: poison-hemlock
Conium maculatum (poison-hemlock) is a biennial forb (family Apiaceae). Poison-hemlock has spread throughout California in areas below 5,000 feet (1,500 m) elevation, excluding the Great Basin and Desert provinces and is commonly found in dense patches along roadsides and fields. It also thrives in meadows and pastures and is occasionally found in riparian forests and flood plains, but prefers disturbed areas. All parts of poison-hemlock are toxic to humans and animals when ingested; handling plants can cause contact dermatitis in some people. Poison-hemlock can spread quickly after the rainy season in areas that have been cleared or disturbed. Once established, it is highly competitive and prevents establishment of native plants by over-shading.
Cal-IPC Rating:
Moderate
?
CDFA Rating: None?
Assessment(s)
Plant Assessment Form - Information gathered by Cal-IPC on the impacts, rate of spread, and distribution of invasive plants in California. Does not include management information.
Species ID Card
Invasive Species ID Card - To support field identification of early detection species, Cal-IPC has designed a set of Species ID cards that can be downloaded, printed double-sided, and trimmed to size.
Weed Management Notes
Management Notes - Information on management techniques and effectiveness from the University of California Cooperative Extension's Weed Research & Information Center.
Cal-IPC Newsletter Articles
Cal-IPC Symposium Presentations
Presentations are linked where available. Where a presentation is not available, find more information by reading the abstract in the Cal-IPC Symposia Archive.
Other
Conium maculatum

Information
Additional photos

Conium maculatum (poison-hemlock) young stem and root. Photo: Jutta Burger

Conium maculatum (poison-hemlock) inflorescence. Photo: © 2009 Neal Kramer

Conium maculatum (poison-hemlock) leaves. Photo: © 2014 Neal Kramer

Conium maculatum (poison-hemlock) stem and leaf base. Photo: © 2009 Neal Kramer

Conium maculatum (poison-hemlock) infestation. Photo: Joseph DiTomaso

Conium maculatum (poison-hemlock) seedling. Photo: Joseph DiTomaso