Brassica tournefortii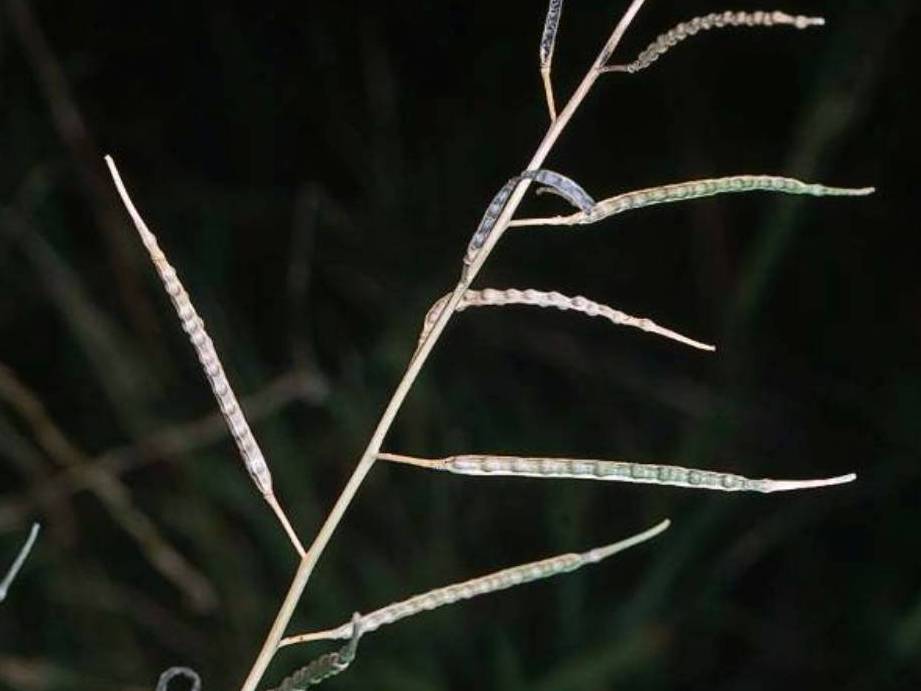 Common names: Sahara mustard; Morrocan mustard; Asian mustard
Brassica tournefortii (Saharan mustard or African mustard) is a winter annual (family Brassicaceae) found in deserts, desert dunes, and coastal scrub, including the San Joaquin Valley, Sonoran and Mojave Deserts, and southwestern region of California. Saharan mustard readily invades newly burned areas, and is known to increase fire frequency and fuel load. Increased fire frequency can cause scrub habitats to convert to grasslands because the native shrubs are not adapted to recurrent fires. The high biomass of Saharan mustard, along with frequent fires, may deplete soils of important nutrients, making native habitat recovery more difficult.
Cal-IPC Rating:
High
?
CDFA Rating: C?
Assessment(s)
Plant Assessment Form - Information gathered by Cal-IPC on the impacts, rate of spread, and distribution of invasive plants in California. Does not include management information.
Species ID Card
Invasive Species ID Card - To support field identification of early detection species, Cal-IPC has designed a set of Species ID cards that can be downloaded, printed double-sided, and trimmed to size.
Weed Management Notes
Management Notes - Information on management techniques and effectiveness from the University of California Cooperative Extension's Weed Research & Information Center.
Cal-IPC Newsletter Articles
Cal-IPC Symposium Presentations
Presentations are linked where available. Where a presentation is not available, find more information by reading the abstract in the Cal-IPC Symposia Archive.
Vegetation types at risk from Sahara mustard invasion: Using Maxent to inform early detection and conservation targets with climate change. Sweet, Lynn (2019)
Hand-removal method impacts on labor effort, Sahara mustard and native species: to bag or not to bag? Sweet, Lynn; Prado, Jennifer; Barrows, Cameron (2018)
Recent research on invasive weeds at the European Biological Control Laboratory (EBCL). Smith, Lincoln; Bon, Marie-Claude; Desurmont, Gaylord; Kashefi, Javid; Sforza, René; Tannières, Mélanie; Cristofaro, Massimo; Marini, Francesca; Goolsby, John; Rector, Brian; Vidovic, Biljana; Winkler, Daniel; Moran, Patrick (2018)
Temperature-dependent influence of fungi on seed mortality suggests difference in seed bank persistence of Sahara mustard between California and Arizona. Li, Max (2018)
The U.S. Marine Corps versus the Sahara mustard. Malusa, Jim (2018)
Effects of renewable energy development on demography of Brassica tournefortii. Tanner, Karen (2017)
Biocontrol of Sahara mustard: An update on exploration in the native range. Sforza, Rene (2016)
Using population genomics to uncover the rapid colonization of Sahara mustard (Brassica tournefortii) in the United States. Winkler, Daniel E. (2016)
Sahara mustard: from here to gone. McDonald, Christopher (2013)
Effects of Sahara Mustard, Brassica tournefortii, on the biodiversity of a desert landscape. Murphy, Michelle; Barrows, Cameron W. (2010)
Evening the odds: Evaluating the combined effects of nitrogen fertilization and exotic annual removal on native annual forbs in the Colorado Desert. Schneider, Heather; Allen, Edith (2009)
Phenology of Brassica tournefortii in comparison to B. nigra, B. geniculata, and native Mojave Desert annuals. Marushia, Robin; Holt, Jodie (2005)
California's fading wildflower legacy. Minnich, Richard A. (2004)
Forbs working group. Pirosko, Carri; Schoenig, Steve (2004)
Exotic plants in the Sonoran desert region, Arizona and Sonora. Devender, Thomas R. Van; Frlger, Richard S.; M., Alberto Burquez (1997)
Fire ecology of exotic grasses in the California desert. Minnich, Richard A. (1995)
Effects of exotic plants on three California ecosystems. Minnich, Richard A. (1994)
Other
Brassica tournefortii

Information
Additional photos

Brassica tournefortii (Sahara mustard) flower. Photo: Ron Vanderhoff

Brassica tournefortii (Sahara mustard) fruits. Photo: Ron Vanderhoff

Brassica tournefortii (Sahara mustard) growth habit (small plant). Photo: Ron Vanderhoff

Brassica tournefortii (Sahara mustard) infestation. Photo: Ron Vanderhoff

Brassica tournefortii (Sahara mustard) leaves. Photo: Ron Vanderhoff