Brachypodium sylvaticum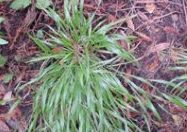 Common names: slender false-brome; false-brome
Brachypodium sylvaticum (slender false-brome) is a perennial bunchgrass (family Poaceae) whose known distribution in California is currently limited to portions of San Mateo and Santa Clara Counties. Slender false-brome was introduced to Oregon in 1930, where it spread rapidly in forests and upland prairies, especially along roadsides and trails. It forms a dense cover that may suppress forest regeneration, degrade wildlife habitat, and increase fire risks. In California it has invaded redwood groves, and there is concern that it could damage this limited habitat type.
Cal-IPC Rating:
Moderate — Alert
?
CDFA Rating: -*?
Assessment(s)
Plant Assessment Form - Information gathered by Cal-IPC on the impacts, rate of spread, and distribution of invasive plants in California. Does not include management information.
Weed Management Notes
Management Notes - Information on management techniques and effectiveness from the University of California Cooperative Extension's Weed Research & Information Center.
Cal-IPC Newsletter Articles
Cal-IPC Symposium Presentations
Presentations are linked where available. Where a presentation is not available, find more information by reading the abstract in the Cal-IPC Symposia Archive.
Other
Brachypodium sylvaticum

Information
Additional photos

Brachypodium sylvaticum (slender false-brome) leaf blade, sheath, and stem. Photo: Keir Morse

Brachypodium sylvaticum (slender false-brome) spikelets. Photo: Keir Morse

Brachypodium sylvaticum (slender false-brome) leaf margins. Photo: Scot Loring

Brachypodium sylvaticum (slender false-brome) growth habit. Photo: Scot Loring