Senecio jacobaea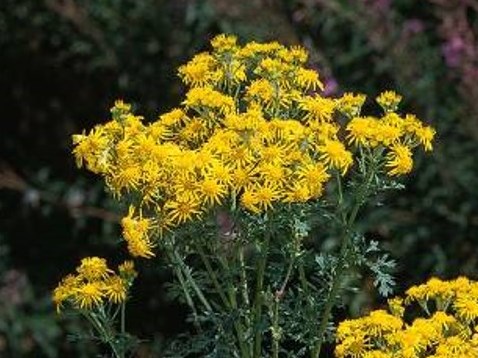 Common names: tansy ragwort; stinking willie; stavewort; kettle-dock; felonweed; Fairies' horse; tansy butterweed; staggerwort
Senecio jacobaea (tansy ragwort) is a noxious biennial, perennial, or winter annual forb/herb (family Asteraceae) found in northern California, along disturbed places, roadsides, and waste sites. This plant is poisonous if consumed by forage animals. Bees foraging on tansy ragwort produce bitter honey that is tainted with alkaloids.
Rating:
Limited
Cal-IPC Resources
Other Resources
Symposium Presentations
Carrithers, V. F. (1997). Using Transline* herbicide to control invasive plants. California Exotic Pest Plant Council Symposium '97. Concord, CA.
Thomsen, C. D., W. A. Williams, et al. (1996). Yellow starthistle management with grazing, mowing, and competitive plantings. California Exotic Pest Plant Council Symposium '96. San Diego, CA.
Cal-IPC News Articles
(1995). Biological control of invasive exotic pest plant species: A report on the importance of maintaining and enhancing our nation's biological control capabilities. CalEPPC News. 3: 6-10.
Elliott, W. (1994). German ivy engulfing riparian forests and heading for the uplands. CalEPPC News. 2: 9.
Pitcairn, M. (2000). All weeds that have approved biological control agents, accidental introductions and others. CalEPPC News. 8.