Senecio jacobaea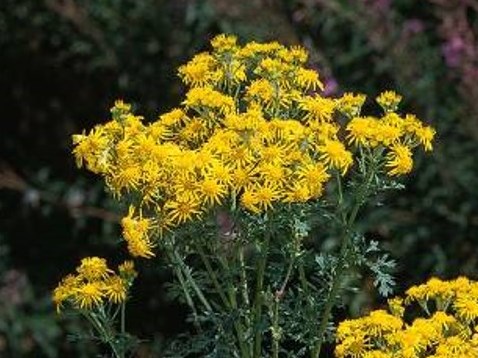 Common names: tansy ragwort; stinking willie; stavewort; kettle-dock; felonweed; Fairies' horse; tansy butterweed; staggerwort
Senecio jacobaea (tansy ragwort) is a noxious biennial, perennial, or winter annual forb/herb (family Asteraceae) found in northern California, along disturbed places, roadsides, and waste sites. This plant is poisonous if consumed by forage animals. Bees foraging on tansy ragwort produce bitter honey that is tainted with alkaloids.
Cal-IPC Rating:
Limited
Cal-IPC Assessment
Plant Assessment Form - Information gathered by Cal-IPC on the impacts, rate of spread, and distribution of invasive plants in California. Does not include management information.
Weed RIC Management Notes
Management Notes - Information on management techniques and effectiveness from the University of California Cooperative Extension's Weed Research & Information Center.
Cal-IPC Newsletter Articles
Cal-IPC Symposium Presentations
Carrithers, V. F. (1997). Using Transline* herbicide to control invasive plants. California Exotic Pest Plant Council Symposium '97. Concord, CA.
Thomsen, C. D., W. A. Williams, et al. (1996). Yellow starthistle management with grazing, mowing, and competitive plantings. California Exotic Pest Plant Council Symposium '96. San Diego, CA.
Other
Senecio jacobaea

Information