Salsola tragus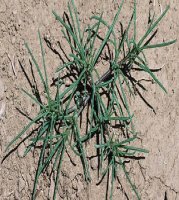 Synonyms: Salsola australis, S. iberica, S. kali var. tenuifolia, S. kali ssp. ruthenica, S. kali ssp. tenuifolia, S. kali ssp. tragus, S. pestifera, S. ruthenica.
Common names: Russian thistle; common saltwort; prickly Russian thistle; Russian tumbleweed; tumbleweed; tumbling weed; windwitch; witchweed; prickly glasswort
Salsola tragus (Russian-thistle) is a large, bushy summer annual (family Chenopodiaceae). It can be found throughout California, including in agricultural areas, desert, roadsides and other disturbed areas. Russian-thistle can impede traffic, create fire hazards, and is a host of the beet leaf-hopper, an agricultural insect pest.
Cal-IPC Rating:
Limited
Cal-IPC Assessment
Plant Assessment Form - Information gathered by Cal-IPC on the impacts, rate of spread, and distribution of invasive plants in California. Does not include management information.
Cal-IPC Newsletter Articles
Weed biological control agents approved for California. Pitcairn, Michael J.; Smith, Lincoln; Moran, Patrick.

Vol 22, Issue 1

Tackling invasive plants on California Sept. of Fish & Game lands. O'Rourke, Brianne; Horenstein, Julie.

Vol 17, Issue 1

Killing the beast: A cooperative approach for control of Arundo donax in the Santa Ana River watershed. Stein, Eric D.; Vartanian, Valerie.

Vol 05, Issue 3
Cal-IPC Symposium Presentations
None for this species.
Other
Salsola tragus

Information
CalFlora - Distribution information based on submitted observations and herbarium specimens.
CalWeedMapper - Distribution information with ability to determine regional priorities.