Salsola tragus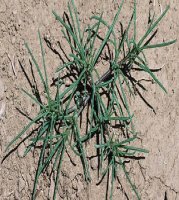 Synonyms: Salsola australis, S. iberica, S. kali var. tenuifolia, S. kali ssp. ruthenica, S. kali ssp. tenuifolia, S. kali ssp. tragus, S. pestifera, S. ruthenica.
Common names: Russian thistle; common saltwort; prickly Russian thistle; Russian tumbleweed; tumbleweed; tumbling weed; windwitch; witchweed; prickly glasswort
Salsola tragus (Russian-thistle) is a large, bushy summer annual (family Chenopodiaceae). It can be found throughout California, including in agricultural areas, desert, roadsides and other disturbed areas. Russian-thistle can impede traffic, create fire hazards, and is a host of the beet leaf-hopper, an agricultural insect pest.
Rating:
Limited
Cal-IPC Resources
Other Resources
Symposium Presentations
None for this species.
Cal-IPC News Articles