Lepidium chalepense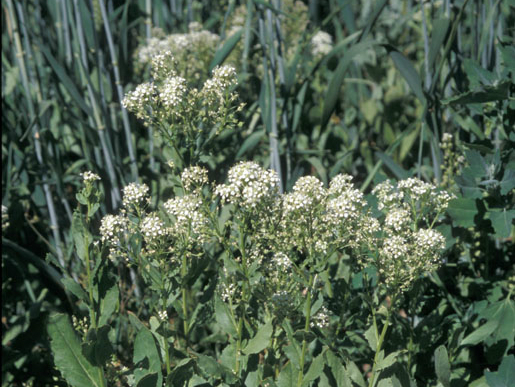 Synonyms: Cardaria chalepensis, Cardaria draba ssp. chalepensis, Cardaria draba ssp. repens, C. draba ver. repens, Lepidium draba var. repens, Lepidium repens
Common names: lens-podded hoary cress, lens-podded whitetop, hoary cress, peppergrass; whitetop, whiteweed, cranson rampant, chalapa whitetop
Lepidium chalepense (lens-podded whitetop) is a perennial (family Brassicaceae) that is relatively infrequent in California. Lepidium draba (hoary cress) and L. chalepense grow in the many habitats and areas of the state, except in the Mojave and Colorado deserts. However, L. draba occurs in wet and dry grasslands, scrubs, and arid areas with alkali soils and is much more common than lens-podded whitetop. Lepidium draba establishes monospecific mats that exclude most or all other herbaceous vegetation. L. chalepense forms dense infestations that crowd out forage plants in meadows and fields.
Cal-IPC Rating:
Moderate
Cal-IPC Assessment
Plant Assessment Form - Information gathered by Cal-IPC on the impacts, rate of spread, and distribution of invasive plants in California. Does not include management information.
Cal-IPC Newsletter Articles
Cal-IPC Symposium Presentations
None for this species.
Other
Lepidium chalepense

Information
CalFlora - Distribution information based on submitted observations and herbarium specimens.