Saccharum ravennae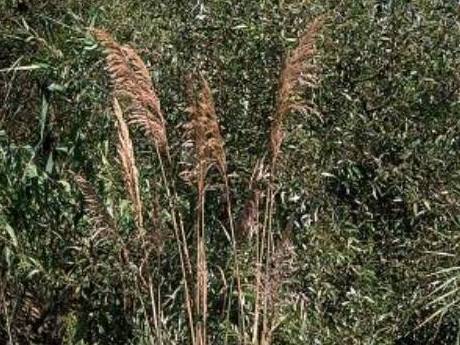 Synonyms: Erianthus ravennae (L.) P.Beauv and subspecies.
Common names: ravennagrass; hardy pampas grass; plume grass; canna di Ravenna
Saccharum ravennae (ravennagrass) is a large perennial grass (family Poaceae) found in the Sonoran Desert and Sacramento Valley of California. It is also found in a number of other states throughout the country. Ravennagrass is sold in the nursery trade as a hardier alternative to pampas grass, since it can grow in cooler climates. Ravennagrass grows in moist places such as marshes and riparian areas, establishing itself easily in disturbed areas. It is spreading rapidly along Cache Creek in the Sacramento Valley.
Cal-IPC Rating:
Moderate — Alert
?
CDFA Rating: B*?
Assessment(s)
Plant Assessment Form - Information gathered by Cal-IPC on the impacts, rate of spread, and distribution of invasive plants in California. Does not include management information.
Weed Management Notes
No Weed RIC Management Notes are available for this species. Check for information on other species in the genus on the Weed RIC site.
Cal-IPC Newsletter Articles
Cal-IPC Symposium Presentations
Presentations are linked where available. Where a presentation is not available, find more information by reading the abstract in the Cal-IPC Symposia Archive.
Other
Saccharum ravennae

Information
Additional photos

Saccharum ravennae (ravennagrass) inflorescence, leaves, and stem. Photo: Steve Matson

Saccharum ravennae (ravennagrass) leaf blade and sheath. Photo: Steve Matson

Saccharum ravennae (ravennagrass) infestation. Photo: © 2014 Molly Ferrell

Saccharum ravennae (ravennagrass) growth habit. Photo: © 2011 Mike Perlmutter