Hordeum murinum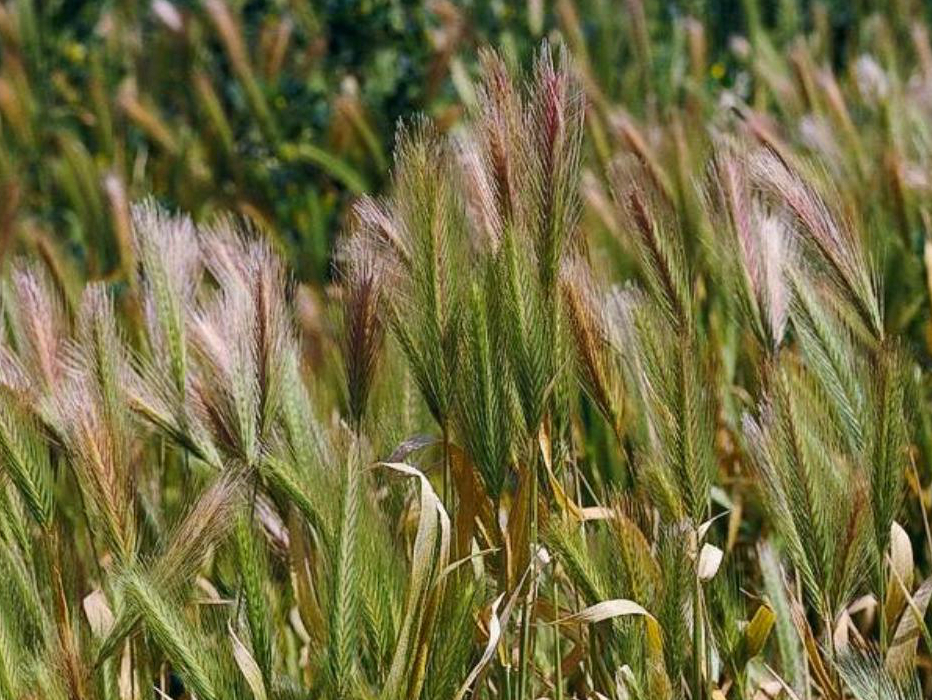 Synonyms: Hordeum leporinum, Hordeum glaucum Steud., Hordeum stebbinsii Covas
Common names: hare barley, foxtail, wild barley, wall barley, smooth barley
Hordeum murinum (hare barley or foxtail) is an annual grass (family Poaceae) that is native to the Mediterranean, northern Africa, and temperate Asia. It is characterized by having a low stature (<=10 cm), inflorescences with long awns, and spikelets (each containing three florets) that disarticulate when they mature. Hare barely is common throughout California in disturbed areas and can persist even with frequent mowing by growing nearly flat. It can outcompete native perennials by growing into bare areas and prohibiting their establishment, is salt tolerant, and may increase fire risk by adding fine fuels. Spikelets can lodge in nasal passages, throats etc. of animals. Hare barley may have arrived in California with Spanish settlers and is more common than its near relative, Mediterranean barley (Hordeum marinum) in disturbed, dry upland areas.
Cal-IPC Rating:
Moderate
?
CDFA Rating: None?
Assessment(s)
Plant Assessment Form - Information gathered by Cal-IPC on the impacts, rate of spread, and distribution of invasive plants in California. Does not include management information.
Weed Management Notes
Management Notes - Information on management techniques and effectiveness from the University of California Cooperative Extension's Weed Research & Information Center.
Cal-IPC Newsletter Articles
Cal-IPC Symposium Presentations
Presentations are linked where available. Where a presentation is not available, find more information by reading the abstract in the Cal-IPC Symposia Archive.
Other
Hordeum murinum

Information