Berteroa incana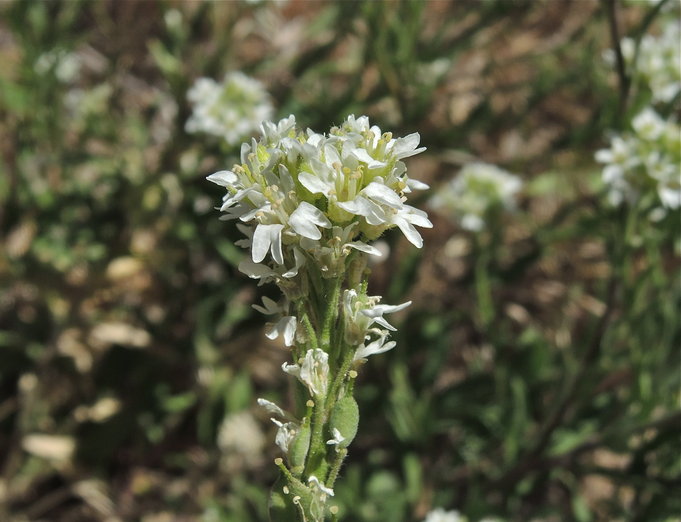 Common names: hoary Alyssum
Berteroa incana (hoary Alyssum) is a hairy herb (family Brassicaceae) with a cluster of white flowers and grayish leaves found in the Central Valley, Modoc Plateau area and desert ranges of California. It is native to Eurasia. It favors grasslands and wetlands. It spreads via seeds and possibly suckers, and vegetatively re-sprouts from its base.
Cal-IPC Rating: Watch
CDFA Rating: -*?
Assessment(s)
Plant Risk Assessment

- An evaluation of the potential for a plant to be invasive in California.
Weed Management Notes
Management Notes - Information on management techniques and effectiveness from the University of California Cooperative Extension's Weed Research & Information Center.
Cal-IPC Newsletter Articles
There are no newsletter articles associated with this species yet.
Cal-IPC Symposium Presentations
Presentations are linked where available. Where a presentation is not available, find more information by reading the abstract in the Cal-IPC Symposia Archive.
Other
Berteroa incana

Information
Additional photos

Berteroa incana (hoary Alyssum) fruits. Photo: Zoya Akulova

Berteroa incana (hoary Alyssum) growth habit (full flower). Photo: Keir Morse

Berteroa incana (hoary Alyssum) inflorescence. Photo: Keir Morse

Berteroa incana (hoary Alyssum) leaf. Photo: Keir Morse

Berteroa incana (hoary Alyssum) leaves and stem. Photo: Keir Morse